Born: March 5, 1864 in Vingsoken, Sweden
Death: July 13, 1944 in Portland Sanitarium, Portland, Multnomah Co., OR
Buried: Lincoln Memorial Park, Portland, Multnomah Co., OR
Findagrave: 190585367
Spouse: Hilda Christina Carlson
Parents: Anders Anderson and Sophia Nilsdotter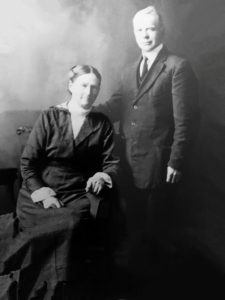 News Note:
Brother Axel V. Anderson, of Blackberry, Minn., father of Elder V. G. Anderson of the Home Missionary department, came to the Sanitarium (Portland, OR) Monday night of last week for medical attention. He was accompanied by his wife and they made the 500 mile trip in one day, starting at 4:00 A. M. and arriving at 11:00 P. M. Brother Anderson stood the trip very nicely and was feeling quite comfortable in the days following.
Northern Union Reaper, January 3, 1928, 7.
Obituary:
Anderson – Axel Victor Anderson was born in Vingsoken, Sweden, March 5, 1864, and fell asleep in Jesus at the Portland Sanitarium and Hospital July 13, 1944. Brother Anderson came to America at the age of 19 and settled in Minneapolis, Minn. On January 11, 1890, he was united in marriage to Hilda C. Carlson. In 1903 they moved to Blackberry, Minn., settling on a farm. It was here that the third angel's message was brought to them by Elder Fred Johnson. In the year 1908 on July 5, father and mother and two of the oldest children were baptized. During all these thirty-six years in the message, his love and zeal for the church never waned. When appeals were made he was the first to respond. For many years he carried active responsibilities, serving as local church elder and also as treasurer. Five years ago, he with his wife came to Portland, where they became members of the Montavilla church. Here they faithfully shared in activities. He is survived by four sons, Clarence V. of St. Paul, Minnesota, President of the Minnesota Conference; Walter B. of South Bend, Indiana; Herbert O. of Portland; Verner G. of Portland, President of the North Pacific Union Conference; and one daughter, Mrs. Joseph Haefner of Chicago; 14 grandchildren and one great grand-child.

H. W. Peterson, North Pacific Union Gleaner, September 12, 1944, 2-3.