The Minnesota SDA History Website

In March 2008, when my parents, Vernon and Myrna (Andersen) Parker, were visiting us, talk turned to memories of attending church in Morgan years ago.  My dad had grown up in the Morgan church and had many fascinating stories about members and events of that church – stories I'd never heard before.  Soon my mom was adding to the fun with stories of her home church at Maple Plain – telling how they purchased a church, took it apart, and then rebuilt it to make the present-day Maple Plain SDA church.  As I listened, a passion grew within me to save the stories for posterity.  A few months later, when visiting my husband's cousin, Alice Pettis, she also shared stories.  I shared with Alice my dream to preserve MN SDA history.  In 2004, we'd worked together on a centennial tribute and tour of the old Maplewood Academy site in Maple Plain, so it was only natural that when I suggested a website, Alice, always a cheerleader, encouraged me to go for it!  As I've researched, Alice, her husband Jerry, and my parents have been invaluable resources – seems they know most every SDA in Minnesota!  So now, you can learn of your ancestors experiences, learn of their faith despite a multitude of challenges, and learn the lessons they have handed down to YOU!
"Welcome to Minnesota SDA History online …
where lessons of the past bring hope for the future!"
Kathy Joy Parke, Website Director

Kathy Joy Parke, Website Director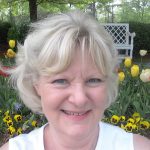 Kathy has enjoyed history as long as she can remember.  Even though Kathy presently lives in Michigan, she is a Minnesota gal at heart – her family having deep roots in the Minnesota Seventh-day Adventist community.  Her paternal grandparents, Fred and Helga (Anderson) Parker joined the church in the early 1940s. Helga was a member at Morgan and later Fred joined the church and they became charter members at Lamberton. After Fred's death, Helga became a member of the Northome church.  Helga was the aunt of Evelyn (Sorensen) Lauritzen – Evelyn and her husband, Adrian, were known as fine musicians and Adrian was a well-known historian in Minnesota SDA circles.
Kathy's maternal grandparents, Helmer and Hazel (Stringer) Andersen were charter members at Maple Plain and later became members of the Bemidji church.  They both were alumnus of Maplewood Academy and Hazel also attended Hutchinson Theological Seminary.  Helmer's parents, Niels and Nielsine (Jensen) Andersen, were Danish immigrants – a blacksmith who had immigrated to Nebraska where the family became Seventh-day Adventists.  Upon embracing his new faith, feeling it was important that his children receive a SDA education, Niels, once again, pulled up stakes with his family and relocated his blacksmith shop – this time to Maple Plain so his children could attend MWA and where part of his business included shoeing the horses for MWA.  Niels and Nielsine were also charter members of the Maple Plain church.
Kathy's parents, Vernon Parker and Myrna (Andersen) Parker are both alumnus of MWA.  Her parents currently attend the Northome and Bemidji churches.  Three of Kathy's siblings, David, Holly Ewert, and James attend Minnesota SDA churches.  In 1974, Kathy wed Roy Parke a fellow native of Minnesota and they now have two children.  They were members of the Northome church for many years until they relocated to Buchanan, Michigan, in 1989.  Buchanan is about eight miles from Andrews University where their children were schooled.  Currently, their membership is at the Pioneer Memorial Church on the Andrews University campus in Berrien Springs, Michigan.
Kathy worked as a software developer, medical office consultant and Office Administrator for her husband's Family Practice office, managing a staff of over 20 employees until their retirement in 2016.  In her "spare" time, her passion is family and church history.  In 2015, Kathy was honored to be named the Maplewood Academy "Alumnus of the Year."  She counts as one of her greatest joys the events she planned in 2019 for the 150th anniversary of camp meetings in Minnesota – bringing history to life through music, re-enactments, and tours of historical sites.  Through the years, she has enjoyed working with her parents and with Roy's cousin, Alice Pettis, along with countless others to bring you the MN SDA History website available to you today!