Back to Churches
Maple Plain Charter Members
Maple Plain Pastors
Organized: May 25, 1879; About 1898; 1904 (MWA); June 3, 1944
Current Location: 4849 Main Street East, Maple Plain, MN Map
Website: https://mapleplainmn.adventistchurch.org/
Editor: Kathy Joy Parke
Contributors: Myrna (Andersen) Parker (primary contributor), Bob and Donna (Burghart) Blake, Don and Lou (Lorraine Nash) Burgeson, Alvina (Christenson) Cook, Dr. Adrian R. M. and Evelyn (Sorensen) Lauritzen, Jerry and Alice (Larson) Pettis, Myvon (Parry) Polensky, Herb Senne
Maple Plain SDA Church Beginnings

As we reflect on Seventh-day Adventist church history in Minnesota, the question logically asked is, "When did the Maple Plain church begin?" To properly answer that question, however, one must reply, "Which Maple Plain church group?" It has been nearly a century and a half since the Adventist work began in Maple Plain and, over the course of time, Adventist church groups were formed in Maple Plain during four different eras.

The earliest group began with efforts in 1879, not quite two decades after the organization of the Minnesota Conference. On February 20, 1879, the Review and Herald gave the following account:
Maple Plain, Feb. 7 – A few here, we do not know how many yet, have decided to obey the truth. Prejudice has been bitter, and the undercurrent of opposition strong. We were driven from the school-house after holding meetings two weeks, but our friends hired a hall, and there was no interruption of our meetings. … Our congregations have been small, but are now on the increase. D. P. Curtis, W. Walker.
A week later, in the February 27, 1879 Review, Curtis and Walker reported:
Maple Plain, Feb. 14 – We held our first Sabbath meeting last Sabbath. Six signed the covenant, and at least one more is keeping the Sabbath. Have held one meeting three miles from here, with a good attendance. To-night we go to a school-house a mile beyond. There is some interest there, and we hope for more; but prejudice is very strong …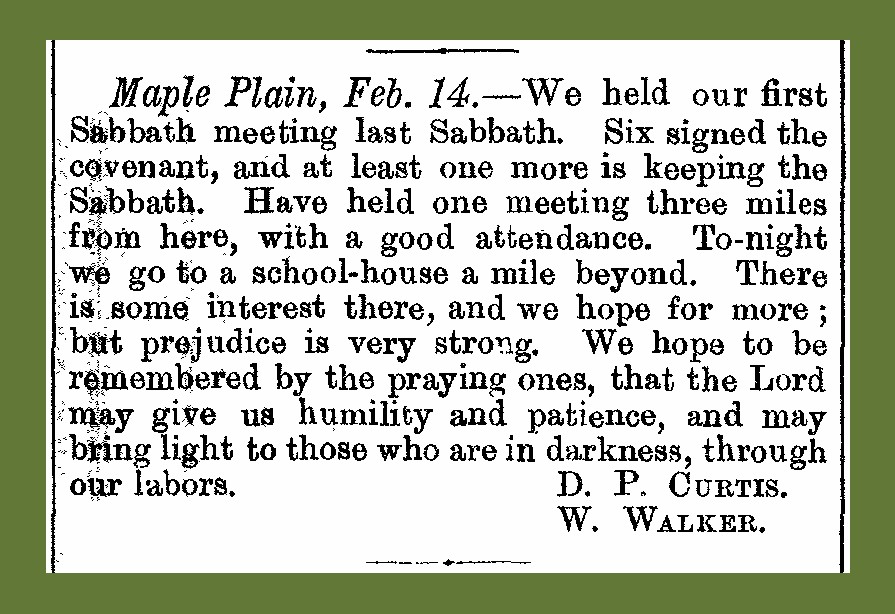 And a month later, in the March 27, 1879 Review, Curtis reported:
We have a company of ten, now firm in the faith ; and there are some others for whom we have strong hopes.
By the April 17, 1879 Review, D. P. Curtis declared:
Our little company of ten, all but one heads of families, are standing firm, and growing in grace, and in the knowledge and love of the truth, which has made them free. We have organized a Sabbath-school, and appointed a leader among them. All the features of our work have been presented. They are taking hold of the health reform, and the tithing system, and temperance, and will engage in the T. and M. work as they are able. They are all in limited circumstances, but are willing to do what they can. The five families have subscribed for the Review and the Instructor, and have bought a partial supply of books. We shall close our work here for the present, to-night, hoping, if the Lord please, to return and organize them fully, before Conference.
He also adds an interesting anecdote as to how God has worked to break down prejudices:
Before our coming, the different sects were no more united than in other places, but since we have stirred them up by presenting the law and Sabbath and kindred truths, the Methodists have held a quarterly meeting at a station a mile from here, and at that meeting they held a union communion service, in which, we are told, Adventists, Baptists, Congregationalists, Episcopalians, Lutherans, Methodists, and Presbyterians joined, being served jointly by the Methodist and Adventist ministers. I wonder if such think this is the union for which Christ prayed, John 17:20, 21?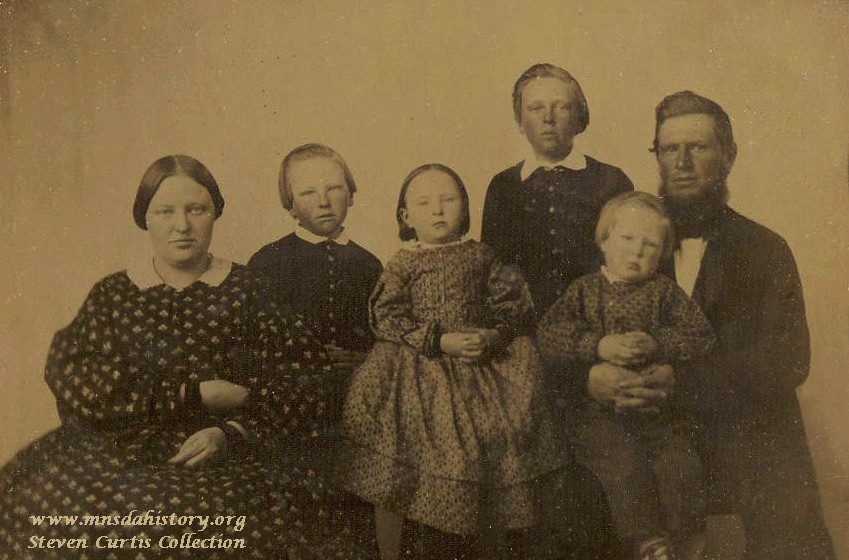 First Maple Plain SDA Church Organized
Finally, on June 12, 1879, the Review and Herald reported that a church had been formally organized:
June 2, 1879 – I returned to Maple Plain the 22d of May, to complete the work which was begun there by Bro. Walker and myself last winter. Found the company all standing firm, and growing in strength and knowledge. They have a good Sabbath-school, Sabbath meetings, and weekly prayer-meeting. On Sabbath I baptized five, and on first-day organized a church of eight members, and ordained Bro. T. J. Morgan, elder. There are some others who will probably come in soon, if those who are already members remain steadfast, and walk humbly before the Lord. I trust that with proper encouragement this little company will grow strong in the faith, and will be a beacon light in that locality. D. P. Curtis.
Unfortunately, a year later the June 3, 1880 Review report was not so favorable:
Minnesota. Labor among the Churches … At Maple Plain, May 21-23. Two families had moved away, and two had abandoned the truth, leaving only one family remaining firm. Held one meeting on Sabbath afternoon with them. On Sabbath morning attended a quarterly meeting of the Christian Advent church, where I found a family of our brethren, lately from Vermont, who are temporarily living with friends who belong to that church. By invitation, visited them on Sunday while the family were at meeting, in company with a sister. The man of the house learned, in some way, that we were there, and left his meeting and came home, some two miles I think, in the rain, and gave us orders to leave his house immediately. Of course we obeyed. Acts 5:41 … D. P. Curtis.
A few weeks later in July 1880, Maple Plain was represented at the Minnesota Conference session held at camp meeting thus evidencing at least some activity in Maple Plain. Another year later, however, on July 19, 1881, the Review and Herald gave the sad news from the Minnesota Conference session held again during camp meeting at Lake Calhoun in Minneapolis – a report stating:
The names of the Geneva, Joy, and Maple Plain churches, were voted to be dropped from the records, they having become extinct.

Thus ends the story of the first Seventh-day Adventist church in Maple Plain.
Second Maple Plain SDA Group Organized
For most of the next two decades, activity in Maple Plain, as recorded in the Review, was limited to a few remaining members who sent in their various offerings. The Memoirs of the Maple Plain Church recorded in the Northern Union Outlook, September 24, 1946 provides the following history of the Maple Plain church at the end of the 19th century:
[Editor's Note: Horace Nash who is referred to in this article moved to the Maple Plain area in the late 1890s and his younger brother Henry followed around the turn of the century. O. J. Grundset, the author of the following, evidently was unaware of the work of D. P. Curtis in Maple Plain in the late 1870s and early 1880s.]
Memoirs of the Maple Plain Church

… Outside the possibility of some of the Minneapolis members living or visiting out in this area of Maple Plain, Long Lake, and Stubbs Bay, as far as we know, Horace and Henry Nash were the first witnesses of the Seventh-day Adventists in this territory. They were colporteurs, distributing and selling religious books and literature, chief of which, outside of Bibles, was the book, "The Great Controversy Between Christ and Satan." They came here fifty-two or fifty-four years ago. Mr. and Mrs. J. C. Durant came to the Stubbs Bay area about that time. Sarah Badori was then living north of Armstrong with her parents. They purchased the book, "Great Controversy," from one of the Nash brothers, read it, and accepted the message it contained; and later she joined the Seventh-day Adventist church. She was later Mrs. Charles Nelson, and now Mrs. H. J. Blaine. Others of that date may have resided in this community, but no exact data is available.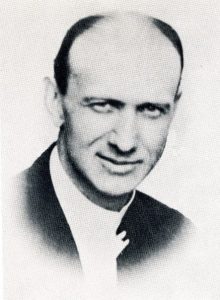 In 1898 Elder O. O. Bernstein, assisted by Elder Luther Burgess, pitched a tent in Maple Plain in typical pioneer style, and conducted gospel meetings, presenting the doctrines of the Scriptures applicable to our times, the nearness of the second coming of Christ, the binding claims of God's holy law including that of Sabbath observance, a closer and personal walk and relationship with God, Christ Our Righteousness, Christ our Mediator, Intercessor, and Saviour. The prophecies of Scripture, the tabernacle service of the former sanctuary, the present service of Christ in the heavenly sanctuary, and many other Scripture truths were studied from day to day, the Spirit of God moving upon the hearts of many to take their stand with those "who keep the commandments of God, and the faith of Jesus." Rev. 14:12.
A goodly number accepted the message and the doctrines presented and these were baptized in Lake Independence.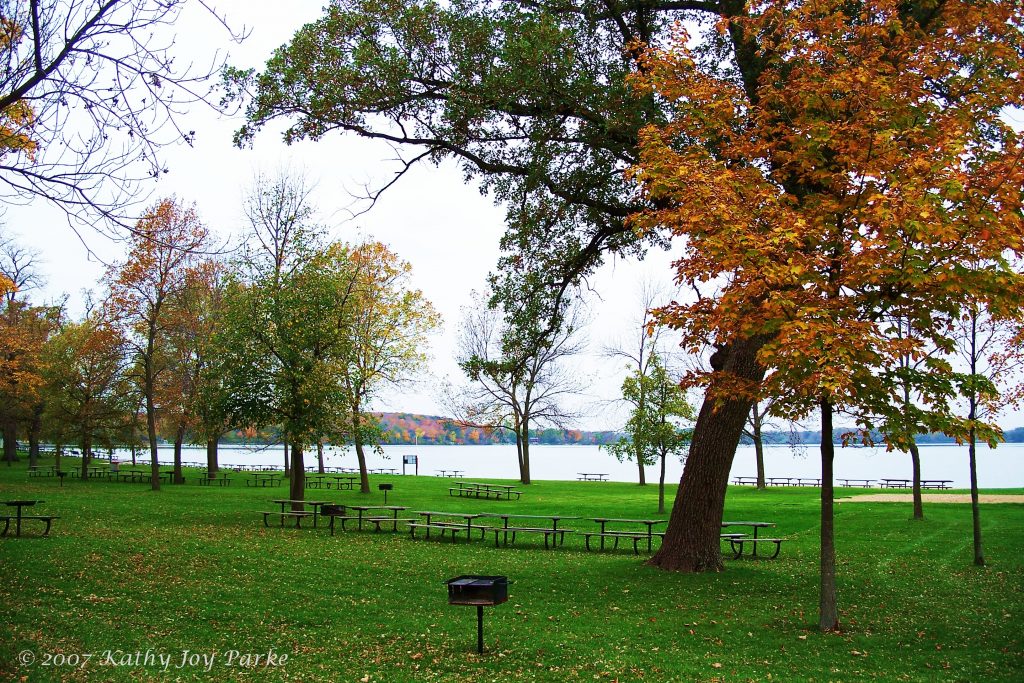 The meetings begun in the tent were continued for some time in the hall above the McCormick store. The names of those baptized by Elder Bernstein, together with a few former members living in the community at that time, are given below, and according to the best available information, were organized into a church organization.

Before and at 1898 – Mr. and Mrs. J. C Durant, Mrs. Sarah Batdork-Nelson (now Mrs. Blaine), Mrs. Chas. Budd, Mrs. Hattie Smith, Laura Hart (daughter), Ella Graves (daughter), Josephine Durant (daughter), Mrs. J. Beer, Mr. Otto Kurst, Mrs. Wilhemina Hart, Mrs. Graves, Rena Graves (daughter), Mrs. George McCormick, Mr. Plant, Mrs. Elmer Pogue, Mr. and Mrs. George St Claire, Mr. and Mrs. Henry Nash, Mrs. Brooks, Mr. and Mrs. Frank Pogue, Miss McCormick (daughter), Mr. and Mrs. Charles Levine. Mrs. Kennedy, Mr. and Mrs. Horace Nash, Ethel Nash, Dr. and Mrs. Tabor Davies, Mr. and Mrs. Pogue.

About 1900 – Mr. and Mrs. Louis Anderson, Mr. H. J. Blaine, Anna Anderson (daughter).
The above memoirs are supported by a report in the August 2, 1898 Review and Herald regarding Maple Plain:
Eleven not of our faith were present at a Sabbath meeting which was followed by a baptism.
The success of the message in the Maple Plain area at the turn of the century no doubt helped pave the way for an energetic undertaking that was about to begin in the Maple Plain area … Maplewood Academy!
Maple Plain SDA Church and Maplewood Academy
In 1888, shortly after the infamous General Conference in the first Adventist church in Minneapolis on Lake Street and 4th Avenue South, the Minnesota Conference opened the Minneapolis Preparatory School (a high school) in the basement of that church.
After outgrowing the Minneapolis quarters, the school was moved to the city of Anoka, renamed the Minnesota Industrial School and operated as such for five years.
Eventually, though, it was felt that a country setting would be most conducive to an Adventist educational venture. After much research and prayer, God led them to a farm located about a mile northeast of Maple Plain and it was here that they commenced building what is now known as Maplewood Academy.
With the establishment of Maplewood Academy in 1904, Maple Plain very quickly became a bustling center of Adventist activity. The academy was set in an area thickly wooded with beautiful maple trees and was bordered on one side by Lake Katrina. Initially, just an administration building was built. Girls and boys dormitories, however, were soon added along with a teachers cottage, infirmary, and multiple farm buildings.
Elder O. O. Bernstein, who had been so instrumental in raising up the second church at Maple Plain, was appointed as the first principal of Maplewood and during his connection with Maplewood Academy, evangelistic meetings were held from time to time in Maple Plain. In 1905, the annual Minnesota Seventh-day Adventist Camp Meeting was held in Maple Plain so attendees could become familiar with the school (see Camp Meetings on the Gatherings page of this website for a full report of the 1905 camp meeting).
After the school was started, many Adventists in the area attended the Sabbath services at the school. There were a few, however, who desired to worship apart from the school and a small company of about 30 members would meet each week in homes and public buildings. While they occasionally would join with the school services, for the most part they seemed to favor gathering together for worship at Maple Plain or points west, for such places always seemed to be "closer to home."

The 1946 Grundset memoirs specify some of the other Adventists who joined the Maple Plain group after the turn of the century:
After 1900 and during early Maplewood days – Mr. and Mrs. Milo Ingold and family of six sons and daughters, Mr. and Mrs. John Nystrom, Mrs. Preston, Mrs. Clyde and two daughters, Mr. and Mrs. John Shaw, Monroe Nystrom (son), Mabel Preston (daughter).

In later Maplewood days – Mr. and Mrs. Niels Anderson and family, Adrian Lauritzen, Mr. and Mrs. William Lauritzen, the Starkey family.

After 1920 following some meetings conducted in the Armstrong church by Elder Haysmer – Gustav Theodore Larson and his wife Christina.

Others living in community, but having Minneapolis church connections – Mr. and Mrs. John Sann, Mrs. Halvorson, Mr. and Mrs. A. B. Larson, Mrs. Bergquist, Harry Beer of this community, son of Mrs. J. Beer, later joining the Minneapolis Auditorium Church.
Even though meetings outside of the school setting were often held in Maple Plain, still, the school was viewed as the central hub of Adventist activity in Maple Plain. In the summer of 1928, however, this was all about to change … because Maplewood Academy was moving … to Hutchinson, Minnesota!
Maple Plain SDA Church After Maplewood's Relocation
The relocation of the academy brought great sadness to the Maple Plain group. In O. J. Grundset's 1946 memoirs, he recalled:
Maplewood Academy at that location closed its doors in 1928 when it was moved to Hutchinson. What tender memories stir our hearts as we recall the 1928 academy, its environments, "beautiful for situation," those associated with the school, those who, passing through its portals, carried abroad even to the ends of the earth the principles there taught. Following the removal of Maplewood, there was a real depression among the church members of the community. Some met together in homes, some went to Minneapolis church services, and others moved away. During many of the interim years, Marshall Hagen conducted meetings at Armstrong, and held the remnant together until near the time of the reorganization of the present church body.
Names of families worshipping with the Maple Plain group at that time included Andersen, Blaine, Durant, Hart, Hawkins, Larson, Lauritzen, Mikre, Nelson, Osborne, Sand, Snekloth, Starkey, and Swanson. Later, Dr. Ole J. Grundset (author of the 1946 memoirs) and his wife, Anna, joined the group – they had been missionaries to Shanghai, China, and went to Manchuria in the fall of 1914, spending nearly eight years in the Orient.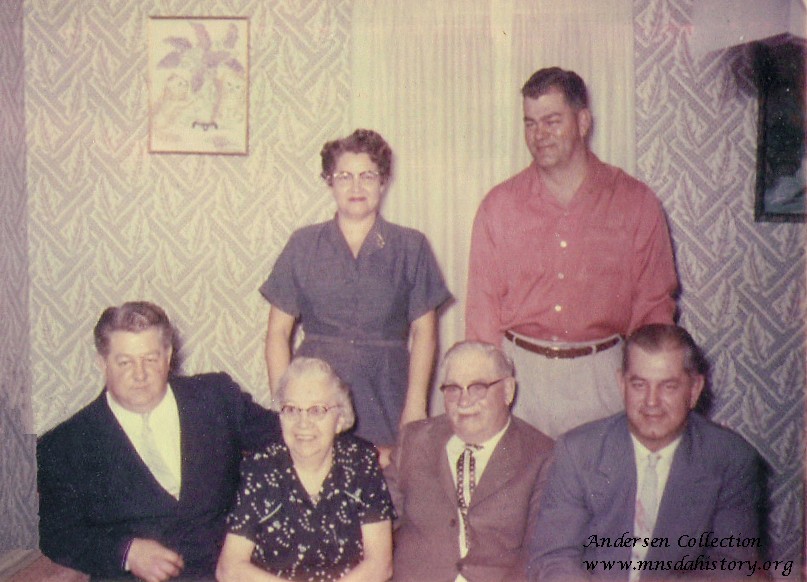 The Andersen family, Niels and wife Nielsine (great-grandparents of this Editor) with their children (son Helmer being this Editor's grandfather), had immigrated from Denmark to Wolbach, Nebraska. It was here, in 1918, that Andrew Peterson, who later was connected with Maplewood Academy at Maple Plain, brought the faith of the Seventh-day Adventist church to the Andersens. They soon conducted church services in their home and shared their faith with others in the area, such as Danish immigrants Wilhem and Maria Jensen – their daughter Anna's family (Cloyd Neisner) would join the Maple Plain church in 1945. As the Andersen children entered their teens, the family relocated to Maple Plain in 1924 so the children could attend Maplewood Academy. Niels was a blacksmith by trade and at Maple Plain he again set up shop in town where he also shoed the Maplewood horses. When Maplewood moved to Hutchinson, Niels said he was not moving his blacksmith business again (having moved it from Denmark to Nebraska to Maple Plain)! So Niels and his family stayed in Maple Plain and became a strong force in organizing the Maple Plain Seventh-day Adventist Church where they attended for several decades.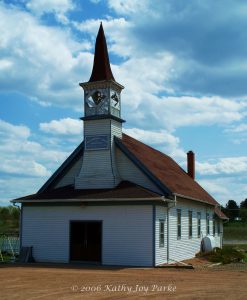 For several years after Maplewood moved to Hutchinson, the Maple Plain company met for Sabbath services at an appointed place in the morning or afternoon. For quite some time, afternoon services were held in a one-room District # 81 schoolhouse; for another period of time they met at the home of the "Lake Tom Larsons" on Sabbath mornings; and later on, a relatively staple meeting place, mornings or afternoons, was the abandoned Advent Christian church (First-day Adventists) – a structure which still stands today (currently Faith Community Church). These three convenient locations were within a mile of each other and one mile west of Maple Plain on what is now Highway 12. On occasions, they would travel into Minneapolis and attend the Minneapolis First (Stevens Avenue) SDA Church or the North Minneapolis (Auditorium) SDA Church.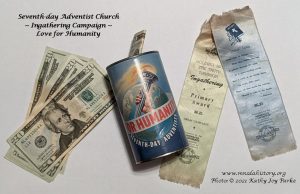 Despite that fact that the group did not have a church home of it's own, they still carried on the Adventist work in Maple Plain with a dedication to be admired. In many years, such as 1937 and 1938, the Maple Plain group was listed on the honor roll for Ingathering and many other years they were listed as an Ingathering "Victory" church.
The group's dedication to the Lord's work was described in the following excerpt by David Gulbrandson in the Northern Union Outlook, February 25, 1941:
The Company at Maple Plain – Strength is not always measured by numbers. A Gideon's band, numerically small, may in the might of God vanquish superior forces. As it was in ancient times so it is in these last days, for God is the same. The company at Maple Plain has nobly and manfully struggled hard to hold high the banner of truth in their neighborhood. Under the leadership of Dr. O. J. Grundset, the Sisters Osborne, Nelson, and Mogren, the company has made gains along every line of missionary endeavor. Signs of the Times and series of tracts have been used freely and no less than fifty yearly subscriptions for the Watchman magazine were taken and paid for last year. In the Sabbath school offerings there was a substantial gain and in the Harvest Ingathering campaign the company went over their super goal. From the treasurer's report it was quite apparent that the company believes in paying an honest tithe. Although the enemy has not left them alone in their struggle to hold high the torch of truth, the blessing of God has been signally manifested and the members at Maple Plain are definitely planning even greater endeavors for God.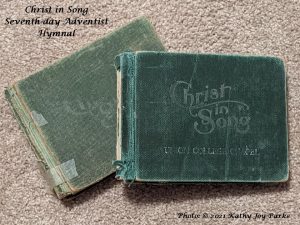 By the early 1940s, the growing little company was becoming more organized as was evidenced by their request in the January 18, 1944 Northern Union Outlook for hymnbooks:
Wanted – Used song books, Christ in Song, by small church and Sabbath school. If your church has any of them to spare after adopting the new Church Hymnal, please write, giving price of the books, to E. L. Sheldon, Maple Plain, Minnesota.
Eventually, the group decided they needed to become formally organized as a church and find a church building of their own.
Current Maple Plain SDA Church Organized
Pastor Ernest L. Sheldon was a 1910 graduate of Maplewood Academy, having graduated in the second graduating class at "old" Maplewood in Maple Plain. Having attended Maplewood, he was familiar with the Maple Plain area from his school days. In the early 1940s he was pastoring the Maple Plain area and led the effort to once again establish an organized church group complete with a much needed church building.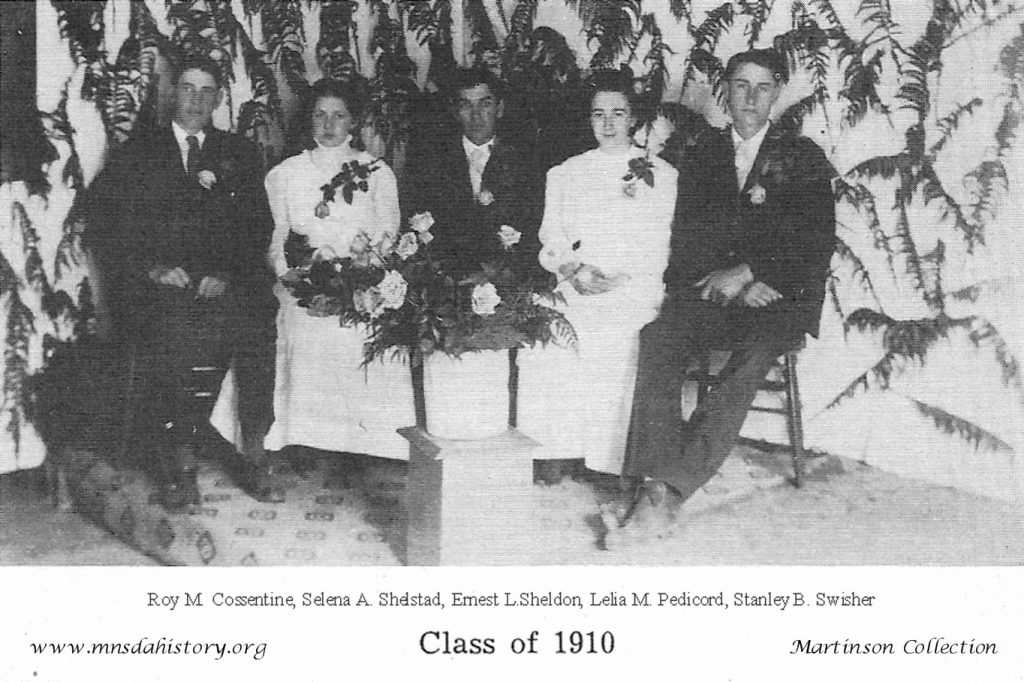 Elder Clarence V. Anderson also attended Maplewood Academy at Maple Plain, graduating in 1914. In 1943, he became President of the Minnesota Conference and, also having a heart for Maple Plain, he was on hand to assist Sheldon in the organization activities. The formal organization process took place on June 3, 1944 with Anderson speaking at the morning service and again in an afternoon service.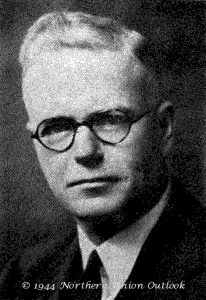 At the morning worship hour, there were 35 persons who had signified their desire to become charter members. From among these, Elder Anderson called forward four persons to form the nucleus of the organization. They were Dr. O. J. Grundset, Niels Andersen, Milo Ingold, and Frieda Nelson. Others were received one by one by vote of the group, each member voting after his name was added. In this manner, all but 3-4 became members at the morning service, these not being present because of distance or other circumstances preventing. In the afternoon service, two more persons were present who were not at the morning service and these were received into the church, making a total of 34 members. The remaining one of the 35 who desired to become a charter member pledged to join at the first opportunity. A nominating committee had previously been appointed and at this time rendered the report, which was unanimously adopted.
The Northern Union Outlook carried the following report by Pastor E. L. Sheldon on June 27, 1944:
Organization of Church at Maple Plain – The long cherished desire of our people in and near Maple Plain was realized when a church was organized here on Sabbath, June 3. Since the removal of Maplewood Academy the need of a church organization has been felt by those who previously resided here and the desire has been shared by others who have more recently come to live in this community.

For several years our people at Maple Plain have had a Sabbath school and held church service, first in the homes and later in a rented church building at Armstrong, a mile or more west of Maple Plain. For the constant service rendered, the kind and unselfish interest taken in this group, much credit is due Doctor O. J. Grundset of Montrose, who for a number of years has served as their leader. His loyalty, devotion and faithfulness have been a blessing to these members of the remnant church. Other members have done faithful work through the years and their tithes and offerings have been sent to the conference office.

During recent months the plans for a church organization have gradually developed and they materialized at the Sabbath morning service on the above mentioned date, with Elder C. V. Anderson, our conference president, in charge. There were thirty-two believers who became charter members at that service. Of these, four were not present because of health conditions or distance, one of whom is a young man in the army. At the afternoon service two who were not present in the morning, were received into membership, and one other will be received at the first opportunity. Thus the charter membership is thirty-five. At the afternoon service officers for the newly organized church were elected. Very appropriately, Doctor Grundset was chosen as elder.

At both the morning and afternoon services, Elder Anderson gave excellent instruction and wise counsel, making very clear the fundamental doctrines that make us a peculiar people, as well as emphasizing the privileges, duties and responsibilities of membership in the church.

We earnestly hope and pray that the Maple Plain church may grow in grace, increase in numbers, and be a light in this community.
The first church officers selected were as follows:
Pastor – E. L. Sheldon
Elder – Dr. O. J. Grundset
Head Deacon – Carl Senne
Clerk – Mrs. Orsen (Ruth) Blake
Treasurer – Mrs. Helmer (Hazel) Andersen
S. S. Superintendent – Helmer Andersen
Missionary Leader – Carl Senne
Missionary Secretary – Carl Senne
Junior MV Leader – Mrs. Carl (Kay) Senne
Dorcas Leader – Mrs. Carl (Kay) Senne
Building the Maple Plain SDA Church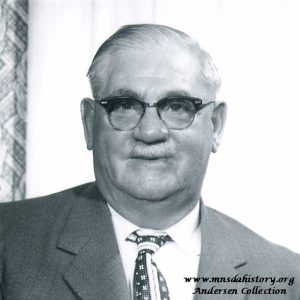 Shortly after organization, a building committee was appointed of Niels Andersen (Chairman), Dr. O. J. Grundset, Carl Senne, Mrs. Helmer (Hazel) Andersen, and Mrs. Frieda Nelson. This website's Editor notes that, with her great-grandfather Niels as chairman of the building committee and her grandmother, Hazel as both the treasurer and a building committee member, the Andersen family was obviously ready to lead the charge to acquire a new church! America, however, was caught up in the throes of World War II and building supplies were scarce as all resources were diverted to the war effort. How could this little company afford to construct a new church? As is so often the case in life, only God could provide a solution for their needs. A Lutheran church, the "Kassel Church", between Delano and Montrose on Highway 12 was offered for sale. It seemed like a perfect solution except for it's location. So what do you do when the perfect building is in an imperfect location? You take the church apart and rebuild it in a better location!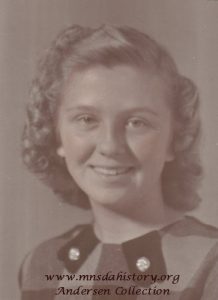 Of course, even the church they were going to recycle had to be paid for so the fund-raising ensued. Myrna Andersen (Parker) recalls helping her mother, Hazel (Stringer) Andersen, with one fund-raising project. With pinking shears they cut out a little "apron" and put a pocket on the "apron" mounted on a recipe card and there was a letter inviting people to put donations in the "apron" pocket. With a variety of fund-raising efforts such as this, the funds poured forth and soon they had enough money to buy the Lutheran church. Of course, fund-raising was just the beginning as they still had to tear apart the old church and rebuild it in Maple Plain!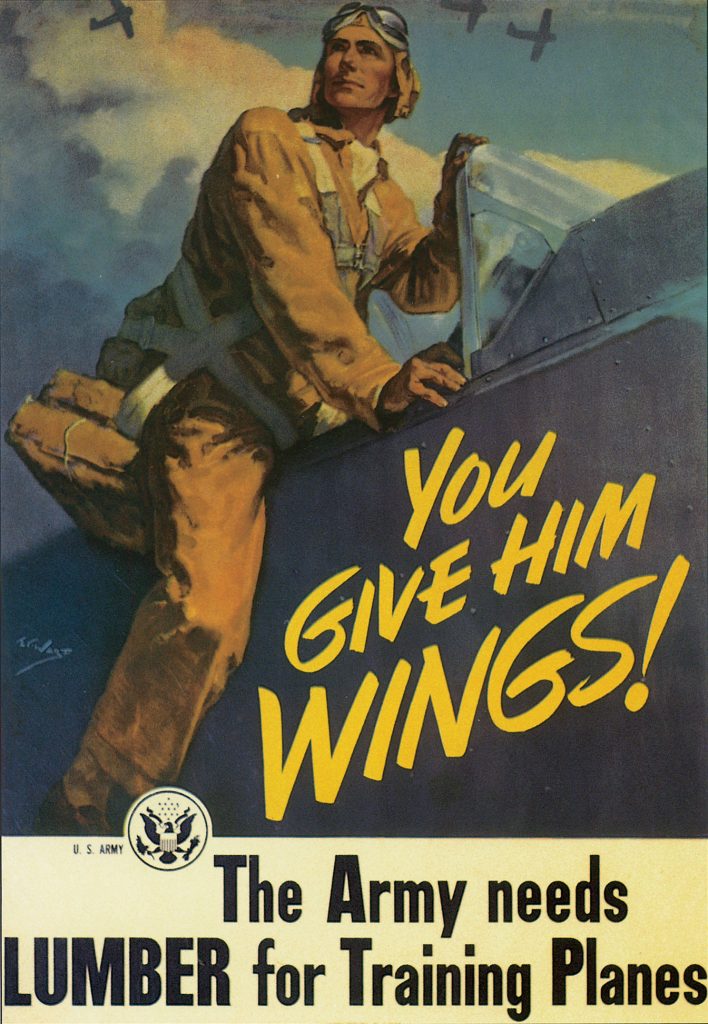 And so it was that, on a beautiful Minnesota day, the church members gathered and energetically began the work of dismantling the church. Oops! Did I say, "members"? Not all the workers were "members" yet as the working group included children too! Myrna Andersen, who was about 10 years old at the time, recollects that nearly every member was there with their family in tow. She recalls that there was a job for everyone regardless of age – as a child, she worked with other children to take the nails out of the boards so nails and boards could be used again – remember, this was war time and supplies were scarce!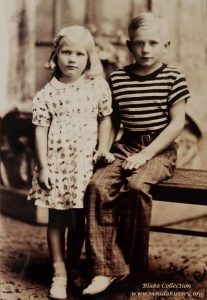 As the volunteers were taking off the rough sawn roof boards, they would throw the boards down to the ground. Bob Blake, who was about 14 years old at the time, recalled that he, along with others, would carry the boards over to some sawhorses where the rest of the nails were pulled. One time, without prior warning, someone yelled that he or she was dropping a board at the same time as it was dropped and Bob, having dashed in to get more boards, was hit on the head, knocking him out briefly. He remembers lying on the running board of someone's car with people surrounding him. Dr. Mitchell (who had also delivered Bob) said, "Oh, he's okay – just a bump on the head!" and soon all were back at work including Bob!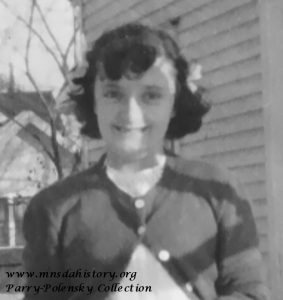 A foundation needed to be prepared at the new location and Myvon Parry-Polensky, who was about 9 at the time, recalls that she had a loose tooth the day they poured the foundation. As she wiggled her tooth, a workman noticed and invited her to take out the loose tooth and drop it in the church's future foundation – she promptly did so, leaving a "part of herself" there as a long lasting memento in the Maple Plain church!
The women had an important role as they served a wonderful picnic lunch to all. Bob Blake recalls that, unfortunately, there was no silverware or at least not enough. Once again Dr. Mitchell had a ready comment, "Fingers were made before forks. It's just a little dirt – just from the church!" So everyone feasted, silverware or not!
Once the church was disassembled, the materials were then transported to the new location at 4849 Main Street East in Maple Plain just two doors down from the home of charter members Niels and Nielsine Andersen. Over the course of the next year and a half, the church was then re-built by the members at the church's present site (hired construction workers may have also been involved).
The Northern Union Outlook maintained a running commentary during the months of construction to keep all apprised of the progress on the new Maple Plain church structure. On July 25, 1944, as the building project commenced, Dr. O. J. Grundset reported in the Outlook:
Announcement of the organization of a church at Maple Plain of 35 charter members appeared recently in the Outlook. Other members are being added, and we anticipate other families moving out from the large cities and joining with the Maple Plain church. We have secured a well located one acre lot ample for a church building and school purposes. It is located on a surfaced highway leading out toward the old Maplewood site and Lake Independence. A church building is now definitely on our program. Pledges have been made, money is coming in, and all are joining heartily in the plans for the erection of a monument to the truth in the old time center, Maple Plain; a church building to house the congregation of believers and rightly representing the cause of God in this place. But we need more money than the local members are able to contribute. So an invitation is extended to those who in past years have come and gone through this portal, to aid us in the placing of this monument in Maple Plain. Elder E. L. Sheldon is our pastor, and those who are able and so inclined, are invited to send contributions for the church building to him at Maple Plain, Minnesota. All such gifts to this worthy cause will be sincerely appreciated.
A short time later, C. V. Anderson reported in the August 1, 1944 Northern Union Outlook:
Some time ago you read in the columns of the Outlook that a new church had been organized at Maple Plain. You will be interested to know that a large lot has been purchased and paid for, upon which the believers expect to place a house of worship. Word has been received that the brethren have purchased a building which has been used for a church out in the country. They will soon be moving this to the new location and plan to remodel it into a commodious and suitable house of worship for the Seventh-day Adventist church at Maple Plain.
And a couple weeks later on August 22, it was reported:
Word has come to us that the basement has been dug for the new church building at Maple Plain. It is inspiring to see the way the newly organized group of people there are taking hold of this enterprise of erecting a building, that they might worship under their own roof as soon as possible.
The September 26, 1944 Northern Union Outlook carried further news of the progress:
The readers of the Outlook will remember the message from Dr. O. J. Grundset published in these columns a few weeks ago, and will know of our plan to build a church here, so near the site of the old Maplewood Academy. Even before our church was organized on June 3, we had begun to plan for a church home. Previous reports, I believe, have mentioned the purchase of a lot, which is an acre tract beautifully situated in the eastern part of town, on the road which led out to old Maplewood. The basement for the new building has now been excavated, and at this writing work has begun upon the foundation. We trust that within a few days, further work upon the basement will be in progress. Inasmuch as building material is difficult to obtain, we feel that the Lord blessed in our securing an old church building situated on Highway 12, just east of Montrose, and at a cost which represents a very material saving. 'Many hands make light work' and it was encouraging to see the group of workers – men, women, and children – who gave their time to the wrecking of the building. In a surprisingly short time the building was dismantled and the material in piles upon our church lot here in Maple Plain. Due to government restrictions, we may not be able to secure all of the material needed for immediate completion of the building. However, it is our purpose to go as far as we can this fall before cold weather.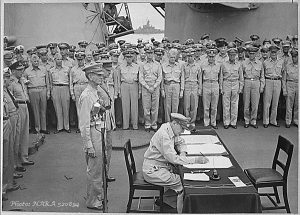 A year later, on September 2, 1945, Japan signed surrender documents aboard the USS Missouri, and World War II came to a close. That fall, the Maple Plain SDA Church building project was also coming to a close.
Dr. O. J. Grundset, Elder, again brought a report in the October 23, 1945 Northern Union Outlook:
News Notes from the Maple Plain Church – Elder Marshall E. Hagen, formerly of the Minnesota Conference and now secretary-treasurer of the Idaho Conference, met with the Maple Plain church and conducted the service on September 22. Elder G. E. Nord was with us for the service on October 8. Elder C. V. Anderson met with the Maple Plain church on October 13 and conducted the church service. Outlook readers will be glad to learn that the Maple Plain church building is nearing completion. 'The work is almost done.' It is newly constructed, size 28×44 feet and of brick veneer, with a full basement and it has a baptistry. It will be hot air heated and has water connections. Our membership is fifty-two and we have a church school with nineteen pupils. We hope to have the church building ready for use this fall and to have the dedication in the near future. Look for further announcement on the dedication date.
A few months later, on January 21, 1946, it was announced that February 2, 1946, would be the day that the believers moved from the Advent Christian church to their officially organized Seventh-day Adventist Church at Maple Plain. That was a long-awaited-for grand and glorious day! In the March 5, 1946 Northern Union Outlook, Pastor E. L. Sheldon furnished the following report of that first church service:
The Maple Plain Church

A long-anticipated privilege was enjoyed by the members of the Maple Plain church on Sabbath, February 2, when for the first time, they met in their new church building. It was a cold day but there was a good attendance including several visitors from out of town. Although the temperature outside was low, the oil-burner furnace was doing its duty. Because the thermostat (now in service) had not yet been installed, the temperature within rose beyond what is considered to be normal. It is an impressive thought that if the spiritual atmosphere of the church can be maintained at a correspondingly high degree, surely there must be spiritual power and conversions must result. Truly this is the greatest need of this and every church, the need of pentecostal power, as when the Spirit of God appeared as tongues of fire that sat upon each of those who were present.

The Maple Plain church is thankful for its new home. It is truly a simple but beautiful structure, and represents many months of labor and personal sacrifice, especially upon the part of the building committee. A very important part has been performed by Dr. O. J. Grundset and Brother Niels Anderson. Brother Blaine, an old settler in Maple Plain, has been a loyal helper and many others have served and sacrificed to help in the ground work. There are still several hundred dollars to be raised, but plans have been made to finish the work and the members are looking forward to the glad day when the church can be dedicated free from debt.

We believe that the Maple Plain church building is a credit to the denomination, and to the community where it is situated. The people of the village speak in appreciation of it and have also given liberally to assist in its erection. What is more important, however, is that we, the members of the church, shall so live as to truly represent the cause which the building represents – the church of the living God, the pillar and the ground of the truth, the body of Christ, the remnant people which keep the commandments of God and the faith of Jesus.
The new church was soon busy with a host of activities – church, Sabbath School, and prayer meetings. Members gave generous donations and the "Dorcas" ladies were quick to furnish children's Sabbath School supplies. Once again, Maple Plain was a bustling center of activity for Seventh-day Adventists.
Maple Plain SDA Church Dedication Service
By the summer of 1946, the new church was finally completed and paid for and the congregation was ready to dedicate the structure to the Lord's work. Notices ran in the Northern Union Outlook, requesting that others join the Maple Plain congregation in this act of dedication.

In the July 23, 1946 Northern Union Outlook, C. V. Anderson, Minnesota Conference President, published an invitation:
Dedication of Maple Plain Church – The church at Maple Plain is hereby inviting friends, new and old, to attend the dedicatory service of the new church building, which is located a half mile east of Maple Plain, on Sabbath, August 3. Elder F. E. Thompson, pastor of the Stevens Avenue church in Minneapolis, will preach at the eleven o'clock hour. Your conference president Elder C. V. Anderson, will deliver the dedicatory address at three o'clock on Sabbath afternoon. The Sabbath school begins at 10:00 A. M. and the service follows immediately. Friends from far and wide are invited to attend this service and encouraged to spend the entire day with the believers at Maple Plain. As far as possible bring your lunches with you and if we have a nice day there is plenty of good shade where lunches can be eaten in the open air. The brethren at Maple Plain have every reason to be very proud of their new church. It is a neat little place in which to worship God. They have it all paid for and if you will honor them with your presence they will be happy to have you worship with them and give you a hearty welcome upon this Sabbath day, August 3.
Again on July 30, C. V. Anderson offered a reminder of this important service:
Maple Plain Church Dedication – Just a reminder of the announcement in last week's Outlook regarding the dedication of the Maple Plain church on August 3. Elder F. E. Thompson, pastor of the Minneapolis Stevens Avenue church, will speak at the eleven o'clock service and the writer will deliver the dedicatory address. Plan to bring your lunch and stay the entire day. The association together will do us all good and we will rejoice with the Maple Plain folk over a wonderful task completed. When you get to Maple Plain ask anyone where the Seventh-day Adventist church is and you will readily find it. Be on time for the Sabbath school at ten o'clock Sabbath morning.
At long last, on August 3, 1946, the members and many of their friends gathered for the dedicatory service. Once again the August 20 Northern Union Outlook carried a full report:
Maple Plain Church Dedication
Sabbath August 3 was a beautiful day with sunshine everywhere. In plenty of time before Sabbath school, which opened at ten o'clock, a group of people were seen to assemble outside the new church at Maple Plain. A flower committee had decorated the church with bouquets of beautiful flowers. The deacons were on hand to see that cars were parked properly and that everyone as far as possible was given a seat inside of the church. The brethren had borrowed a hundred chairs from our camp equipment at Anoka and these were used outside under the large trees. The public address system, belonging to the conference, had also been made available and set up in order that those on the outside of the church could hear the services.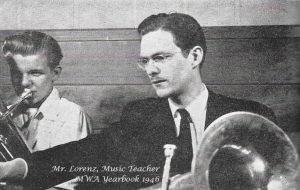 Brother Felix Lorenz, Jr., from Maplewood Academy, had charge of the song service and the special music. Brother Kirk from the colored church in Minneapolis, Brother Felix Lorenz, Jr., Brother Herbert Senne, the Maplewood girls' trio, Elder Anderson, the conference president, and William Geldert, the man who plastered the interior of the church, all rendered vocal numbers. Among the visitors in the audience was the mayor of Maple Plain, together with a fine group of citizens. Representatives from several of the Minneapolis churches and most of the Anoka church members were present. Members from the Blackberry, Willmar, and Mankato churches were also in attendance. There were five Seventh-day Adventist doctors in the audience. Elder and Mrs. Johnson from Rhode Island, were vacationing in Minnesota and attended the service. Mr. and Mrs. Brown, under appointment as missionaries to India, were there. Mrs. Brown was formerly Miss Ruth Croak of Willmar.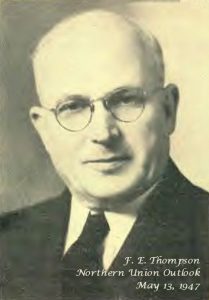 The Sabbath school convened at 10 A. M. and followed the usual procedure. At the eleven o'clock service Elder F. E. Thompson, of the Stevens Avenue church in Minneapolis, addressed the assembly. Everyone was taken care of during the noon hour, either having brought their own lunch or been invited to the homes of the local brethren, and hospitality reigned supreme.
At the three o'clock dedicatory service there was a larger assembly than in the morning. It was preceded by a half-hour song service. The congregation sang to open the service and Elder Nordstrom, pastor of the Southside church of Minneapolis, prayed for God's presence. Mr. William Geldert then rendered a beautiful vocal solo. Dr. Grundset, of Montrose, the elder of the Maple Plain church, brought in the history. We shall endeavor to publish at least a portion of this at same later date. Brother Felix Lorenz brought a message in song after which Brother Niels Andersen, one of the pillars of the Maple Plain church, spoke a few words of appreciation to the citizens of Maple Plain and others who had financially assisted in making the church building a reality. It was pointed out that they had spent over $8,500.00 in cash besides a great amount of labor. They have a church of which to be proud. Elder Sheldon asked for a free-will offering to supply a rug for the rostrum and runners for the aisles. Approximately $65.00 was received toward this project.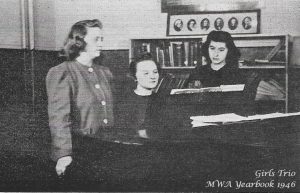 Then Brother Kirk sang one of those soul-stirring spirituals, after which Elder C. V. Anderson, the conference president, delivered the dedicatory address and Elder F. E. Thompson offered the dedicatory prayer. The Maplewood girls' trio sang the closing song. The day will long be remembered, perfect in its setting and attended by the presence of the Holy Spirit from heaven.
In Grundet's September 24, 1946 Maple Plain memoirs he provided a detailed report of the new church construction:
The reorganization of the Maple Plain Seventh-day Adventist Church (organization of the present church) took place on June 3, 1944 at Armstrong, with Elder C. V. Anderson conducting the service. The membership at that time was thirty-five. The present membership is sixty-two. The lot on which our present church is built (one acre) was purchased in May 1944. The basement for the present church was excavated in August 1944. The former "Kassel Church'" building, located near Montrose, Minnesota, was purchased August 21, 1944, and taken down August 26 to 29, 1944, and the building material moved to Maple Plain. The foundation was started September 12, 1944, and the basement laid up completely, the frame work, sheeting, and roof were completed during the late fall of 1944. The external brick work was started in April 1945; the steps, internal finishing, plastering, etc., were completed late in the fall of 1945. The furnace was installed in January 1946. The leveling of lawn and grounds was done in the fall of 1944, the late summer and fall of 1945, and the summer of 1946. The size of the church structure is 28 x 44 feet, outside measurement, and it has a seating capacity of about 125, with room for extra moveable chairs for special occasions. With a little close spacing, and the application of individual economy in occupying seating space, the church may accommodate nearly 150 people. The architect was Walter Dennis. The cost of the church was $8,539.07 cash, plus donated labor. The first meeting in this new church was held February 2, 1946.
In that same issue of the Northern Union Outlook, the church group sent forth an expression of appreciation to those who had supported them through the years but were not able to present at the dedicatory service:
A Resolution – The members of the Maple Plain Seventh-day Adventist church, together with others present at the dedicatory services on this third day of August, 1946, send greetings to, and express our sincere gratitude to, the following, in appreciation of their services in the cause of God, and to this community in past years: Elder and Mrs. O. O. Bernstein, Tajunga, California; Elder Robert Nash, Redlands, California; Elder and Mrs. Marshall Hagen, Boise, Idaho.
Maple Plain SDA Church Through the Years
Through the years, many families attended the Maple Plain SDA Church, each bringing something unique to the church group and the community and leaving many sweet memories for those affiliated with this church.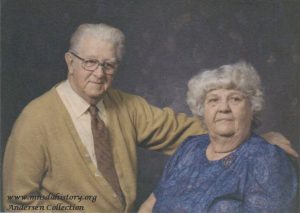 This Editor, herself, experienced the warm fellowship of the Maple Plain on many occasions – in particular, in the early 1970's while attending Maplewood Academy in Hutchinson, this editor's grandparents, Helmer and Hazel (Stringer) Andersen would often invite me along with my friends to come for weekends at Maple Plain. The church was always welcoming and they were always appreciative when we shared special music or played piano and/or organ for the church services. Some of my most treasured memories come from those weekends in Maple Plain.
Memories such as this are common for those who've experienced the Maple Plain church and this Editor has enjoyed the opportunity to talk with many members from the church – some were present when the current church group was organized and the church structure was built … others attended in later years … but all have shared fond memories of days and years gone by.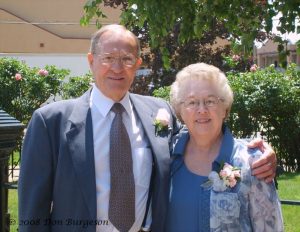 About a year after the first church service had been held in the church, Donald Calvin Burgeson and Lorraine Lucille (Lou) Nash were the first couple married in the Maple Plain Seventh-day Adventist Church on February 9, 1947. It was rather fitting that a Nash would be the first since it was Lou's grandfather, Henry Nash, who had been so instrumental in bringing the Adventist message to Maple Plain so many years before.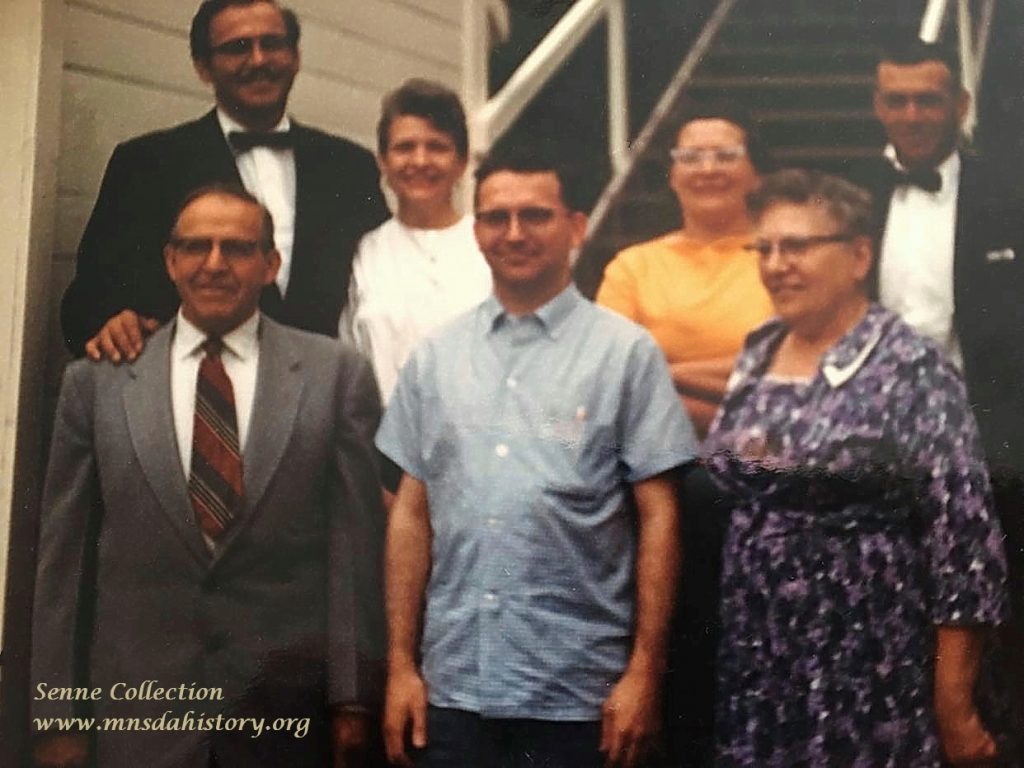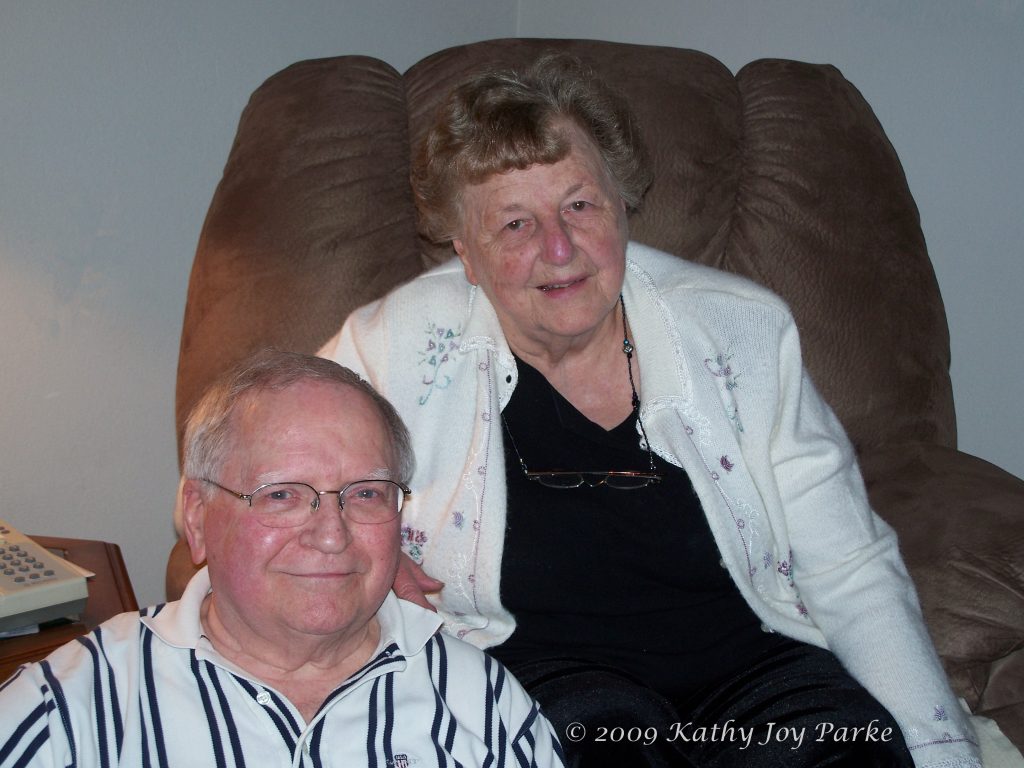 Herb Senne, son of Carl and Kay Senne and a charter member, recalled many members of bygone years, stating, "There was a Hendricks that attended before the church was built. Mrs. Jesse Osbourne and her husband were gladiola growers and they had two children – Lloyd and Lois. Henry Blaine was another member – he was not a chiropractor but he gave treatments of that type – he had an unshaven beard and they called him Jay. Bill and Margaret Carlson attended Maple Plain too for a while."
Myrna Andersen-Parker recalled that Mr. and Mrs. J. C. Durant had a restaurant in town and were well-known in the community as upstanding citizens, serving in both the church and the community.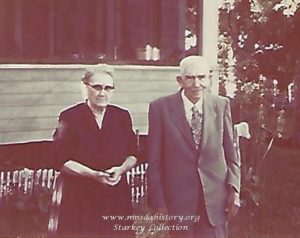 Many who resided in the Maple Plain area remember well the Starkey family. Mr. and Mrs. Charles Starkey donated a building for the church school and bought the land on which it was placed.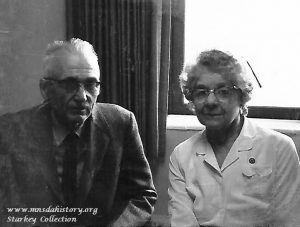 Their son, Roy, owned several small homes in the area and rented them to several young Adventist families – a lot of couples got their start in life renting one of Roy's homes.
Often Roy would run ads in the Northern Union Outlook such as this one in the October 3, 1944 issue:
Financial aid and free service offered to families desiring to get out of cities into rich farming community. Church of 40 members and church school just organized. Rent or buy small farm or business here. Especially attractive opportunity to take over store now; also need man to help repair several sets farm buildings. – Roy Starkey, Maple Plain, Minnesota.
In the January 16, 1951 issue, Roy was still offering such assistance:
A few good home sites and financial assistance in building available to S.D.A. families desiring country locations near church school and Minneapolis, 15 miles to city limits. Six-room house with acreage, terms like rent, one-half mile church school, electricity. If not sold soon will rent. Also eight-room house for rent in spring. Roy Starkey, Maple Plain, Minnesota.
Roy expanded farther out from Maple Plain, too – the Editor of this website and her husband purchased land for their first home in Northome, Minnesota, from Roy Starkey!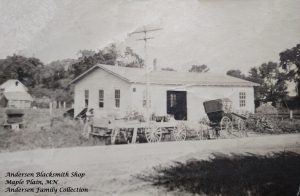 The Niels Andersen family also provided service to the church and community for many years. In the earlier years, Niels and his sons provided blacksmithing services to the community and to Maplewood Academy. Later, with the invention of the automobile, Niels and his son, Helmer, provided mechanic service in their garage and operated a school bus line.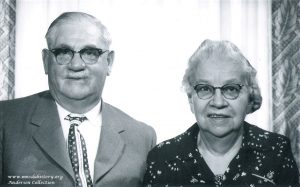 Niels and his wife Nielsine along with their son, Helmer and Helmer's wife, Hazel (Stringer) Andersen, and their daughter Norma (Andersen) Starkey (wife of Harold, another son of Charles Starkey) were all charter members and were very involved in the Maple Plain church for a great many years.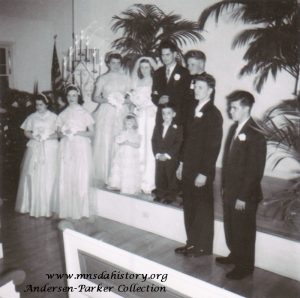 In later years, Helmer and Hazel's children, Myrna and Randall (Ranny), and a foster son, Leroy Mueller, also became members at Maple Plain. Myrna married Vernon Parker in the Maple Plain church in 1954.
The Andersen family was always ready to help where ever needed in the church and the community.
Niels, Helmer, and Ranny were all of assistance to the community through the Maple Plain Fire Department – Niels and Helmer each serving as Fire Chief for a number of years.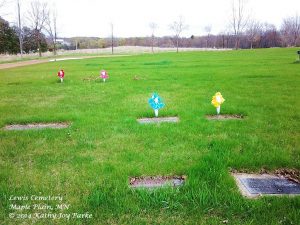 Niels and Nielsine now rest in the Lewis Cemetery in Maple Plain which overlooks the little Armstrong church where they attended Seventh-day Adventist services so many years ago before the current church was built.
Many other church members of bygone years also rest in the Lewis Cemetery, awaiting their Savior's call at the second coming. Not far from Niels and Nielsine in the cemetery, are Earl Anderson and his wife, Ella (Dollinger) Anderson, long-time members of the Maple Plain church. Earl and Ella moved to Maple Plain in 1946, the year the new church was dedicated. They wanted to be in a small town that had both an Adventist church and school and Maple Plain was a perfect fit!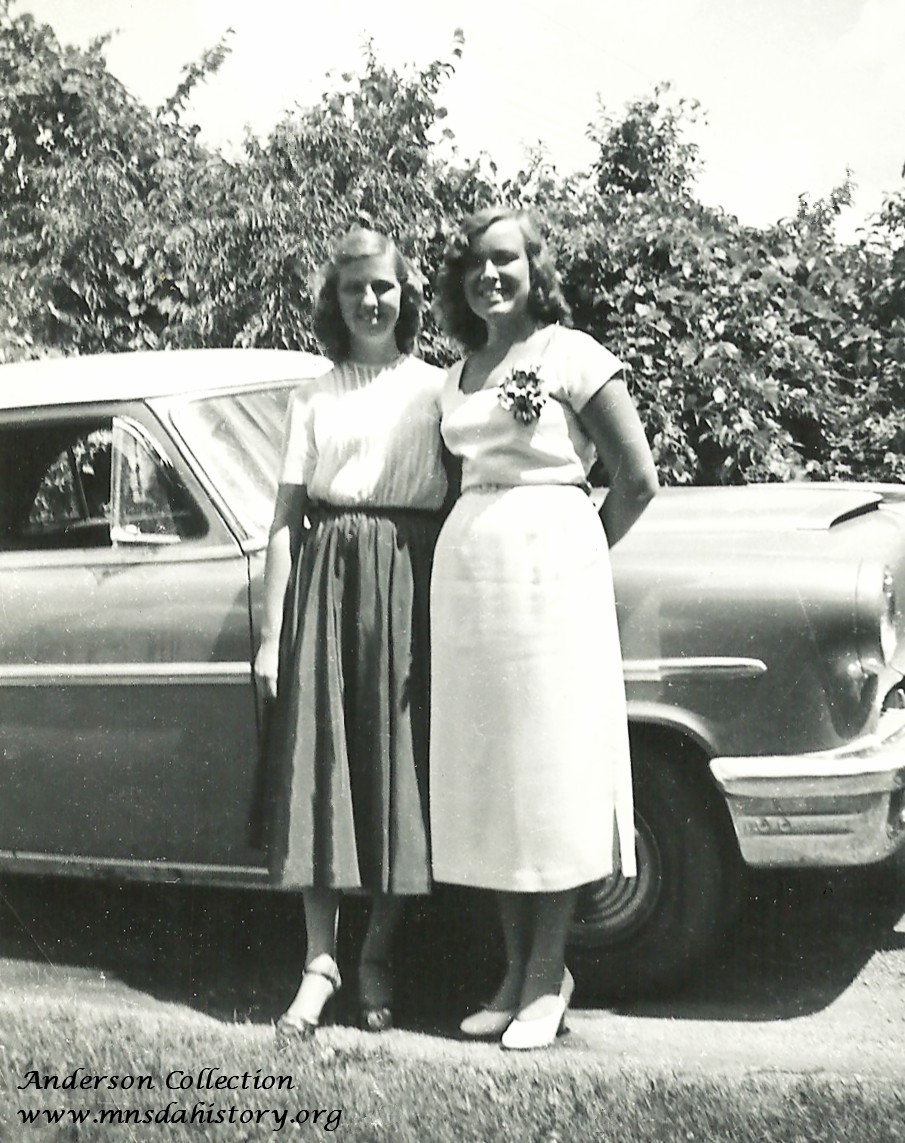 In short time they became good friends with Helmer and Hazel Andersen, working together in church activities and enjoying social time together on Saturday nights. Myrna (daughter of Helmer and Hazel) and Marylou (daughter of Earl and Ella) especially became close friends. At the time Earl and Ella moved to Maple Plain, one son, Gene, was already a freshman at Maplewood; however, their daughter Mary Lou and their son Robert (Bob) were of the age to attend the church school and a son, Gary, attended in later years. In reminiscing today of the years spent in the Maple Plain Church, Mary Lou (Anderson) Gillespie recalls many sweet memories and states Maple Plain still holds a precious spot in her heart.
Adrian R. M. Lauritzen, along with his parents, William and Maria (Erickson) also rest in the little Lewis Cemetery as do many other Adventists. Adrian, many will recall, was a renowned historian for the Seventh-day Adventist Church in Minnesota. Adrian attended Maplewood Academy while it was still in Maple Plain, graduating in 1925. When attending Maplewood, he was initially a Lutheran and was sent to the school only because it was nationally known as a excellent school – not only was he a Lutheran, he was a very good one! While at Maplewood, he stamped his papers with a stamp that said "Be a good Lutheran!" With time, however, he grew to love the Adventist message and joined the church, along with his parents, and ever after he was a strong positive influence upon those around him.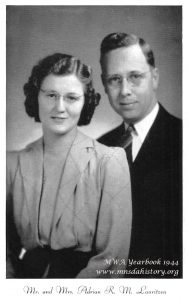 Adrian taught music for several years at Maplewood and shared his talents in many churches throughout Minnesota. His talents included not only music and his wealth of knowledge of the Adventist church, but also an ability to provide interesting sermons and Sabbath School lessons. His wife, Evelyn (Sorensen) Lauritzen, also an accomplished musician, also taught at Maplewood for a few years and for many years she worked with the Minnesota Conference providing Sabbath School workshops around the state. Evelyn (a first cousin to this website Editor's father, Vernon Parker) has shared much of Adrian's collection of Minnesota Seventh-day Adventist Church records, pictures, etc. with this Editor who is delighted to pass this information on to a wider circle on this website. Adrian and Evelyn were both charter members of the Maple Plain SDA Church.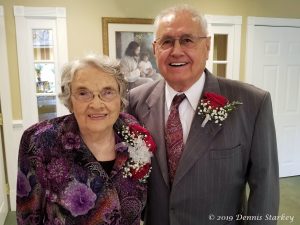 In the summer of 1955, Alvin Klein and his wife, Doralee, came to pastor the Maple Plain church for two years and they have many fond memories of the time spent at Maple Plain. Pastor Klein not only shepherded the Maple Plain members, he and his wife also taught in the church school. Pastor Klein, a young pastor fresh out of school, well remembers that when he first arrived in Maple Plain he was given advice to be cautious with Niels Andersen who was reputed to have a bit of a temper at times – something family members attribute to his being a "stubborn Dane"! The warning signal was that if you saw a red color creeping up Niel's neck you knew to be careful! Pastor Klein made it a priority to become friends with Niels and soon he and Niels were good pals! He recalls that Niels and Helmer Andersen had a large garage where they housed their school bus business and did mechanical work on cars – Pastor Klein had a 1956 Ford that was having some minor problems and Niels had it in tip-top shape in no time at all. (No doubt a work of love on the part of Niels since he and Helmer were die-hard Chevy fans!) When Pastor asked Niels how much he owed him for the work, Niels insisted he would take no payment. After Pastor Klein arrived home and told his good wife, Doralee, about this event, she told him he really needed to go back and pay Niels something for his work. So back to the garage went Pastor Klein! When he told Niels of his mission, the red color started to move up the his neck and Niels very clearly told the pastor that when he said there was no charge for the work, he meant there was no charge for the work! Needless, to say, that was the end of that!
Pastor Klein also remembers that Niels still had an old-time forge and beat plow-shears of an excellent quality – people would come from miles around to have him do work for them. Pastor Klein states Niels once told him that he planned use the money from his plow-shear business to take a trip back to Denmark, his homeland, which he did do.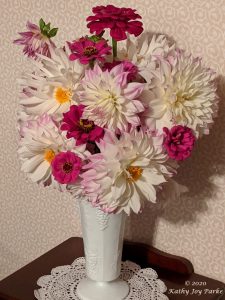 Klein also recalls that Niels loved to garden and, in the summer time when his garden flowers were growing, many mornings Niels would arrive at the Klein home with a fresh bouquet of flowers for the Klein's table. Pastor Klein states, "We never had that before nor since!" The two became such good friends that Pastor Klein thought of Niels as a father to him. Surely this friendship has a lesson for all of us that often times those who may seem to have a tough exterior have hearts of gold on the inside! We are reminded of the scripture that says,
"the LORD seeth not as man seeth; for man looketh on the outward appearance, but the LORD looketh on the heart." I Samuel 16:7 A few years later in 1958, after the Klein's had left their ministry in Maple Plain, Niels requested that Pastor Klein return to serve as the officiating minister at his wife, Nielsine's, funeral – a request which Pastor Klein was honored to accommodate.

Another one of this Editor's favorite stories, is one revolving around the Pogue family. The Pogue family have deep roots in Minnesota SDA history. Around 1880, John and Serena (Furr) Pogue joined the Seventh-day Adventist Church at Hutchinson, Minnesota. Many of their family members became great workers for the church. James Franklin became a minister, working in Minnesota and the Bermudas, eventually becoming President of the Cumberland SDA Conference before his untimely death in his mid forties. His wife, Katie (Knapp), initially working at his side, after her husband's death, she worked in the Minnesota Conference office and then became Girl's Dean at "old" Maplewood Academy at Maple Plain – later she worked at St. Helena in California and at Maplewood Academy in Hutchinson. James and Katie's son, Franklin (born in Maple Plain), was a well known Adventist minister and worked for the North Dakota Conference. Another son of James and Katie became a physician and served the Watertown and Maple Plain areas – Dr. Richard Pogue. Jasper Pogue, a brother to James, also worked in the Bermudas and later became instrumental in the development of the Blackberry, Minnesota Adventist Church. Many of the Pogue family lived in the Maple Plain area – some for a short time, others for most of their lives – several were members when the second Maple Plain church group was formed around 1898.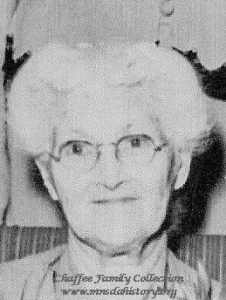 This Editor spent some time researching the Pogue family and tracing their movements and the church work that they were affiliated with. In researching, one often asks, "What happened to (name)?" and this question arose with several in the Pogue family. One in particular, Hazel (Chaffee) Pogue, was intriguing to this Editor (Hazel was the wife of Otto Elmer Pogue who was another son of John and Serena Pogue). Mrs. Hazel Pogue had been a part of the second group to form in Maple Plain around the turn of the century. Did Hazel remain a part of the Adventist community? For some unknown reason, this question weighed heavily on the heart of this Editor! Eventually an obituary was located for her and told "the rest of the story" of this lady. The obituary reads as follows:
(Editor's Note: Minnesota camp meeting in 1895 was held at Merriam Park in St. Paul but the Pogue marriage record does state Hennepin County so apparently the group traveled to the Minneapolis suburb of St. Louis Park for the ceremony).
Pogue – Hazel Chaffee Pogue was born at Byron, Minnesota, October 20, 1874, and died at Long Lake, Minnesota, September 16, 1946, at the age of 71 years. Her girlhood days were spent at home and on June 10, 1895 she was united in marriage with O. E. (Elmer) Pogue at St. Louis Park while they were attending camp meeting. Elder W. B. Hill performed the ceremony. Their early life was spent at Pine City, Minnesota, and at intervals, including the past seventeen years, their home was at Long Lake and in that vicinity.

To them eleven children were born. Sister Pogue is survived by her husband, three sons, five daughters, fourteen grandchildren and three great-grandchildren. There are also three brothers, Earl and Carl Chaffee, of Hinckley, Minnesota; and Harland, of Oregon.

Sister Pogue was baptized and united with the Seventh-day Adventist church at the age of seventeen, and she has remained steadfast through the years. She was a member of the early Seventh-day Adventist church at Maple Plain. For several years she had not enjoyed regular church privileges, and apparently had not heard of the recently organized church and the new building at Maple Plain. Last spring the juniors were doing Ingathering in Long Lake and found Sister Pogue. She was happy to know that there was a church so near and the next Sabbath found her in attendance. Thereafter she attended as regularly, as possible, and on the Sabbath preceding her death she was received into the membership of the church on profession of faith. We were happy with her in this experience, and little did we suppose it would be the last time she would worship with us. She had recently completed the 20th Century Bible Correspondence Course, in which she took great pleasure. While death came very suddenly we believe she fell asleep in Jesus, to come forth in glory when He comes to claim His own.

E. L. Sheldon, Northern Union Outlook, November 26, 1946
This Editor was so pleased to see that Mrs. Pogue had united with the Maple Plain SDA Church, once again being an active part of the church of her younger days. A short while later, this Editor was talking to her mother, Myrna (Andersen) Parker, who was raised in the Maple Plain SDA Church. Upon inquiring as to whether Myrna recalled a Pogue family from Maple Plain, Myrna exclaimed that she certainly did! She stated that Dr. Richard Pogue had been their family physician!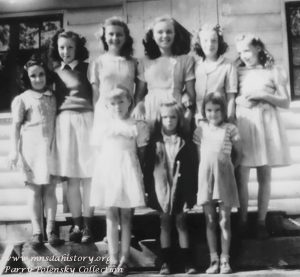 Myrna continued to relate that she also recalled a "Mrs. Pogue" – Myrna stating that she and her schoolmate, Doris (Thompson) Bacon, had been sent out by the church school to do Ingathering one day. At one of the houses that they came to, a lady answered the door and upon hearing the purpose of their visit, she related that she had been a Seventh-day Adventist from earlier days in Maple Plain. She stated her name was Mrs. Pogue and was surprised to learn that there was a church in the Maple Plain area – she soon was attending church with the believers there. Myrna stated that their teacher had told her and Doris that they would someday have stars in their crown in heaven because of the blessing they had been to Mrs. Pogue. Imagine how surprised this Editor was to learn that it was her mother, Myrna, had been one of the young Ingatherers that knocked on Mrs. Pogue's door that day in 1946!
Once again, lessons are gained … lessons that our youth are an important part of our Lord's work and that we never know whose path we may cross and what plans God may have for us each and every day to be a blessing to someone else!
Maple Plain SDA Church School
In the fall of 1944, the year that the church had been organized, at the same time as Maple Plain was starting to build a church, they also decided to start a church school for their children. There was not time nor resources to build a school structure, so what should they do?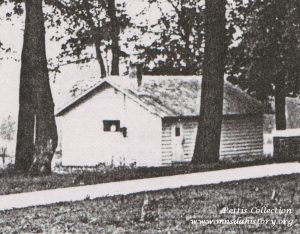 The answer came when Charles and Minnie Starkey who had become members at Maple Plain donated a small white-washed log house which was adjacent to the east of the new church property, turning the house to face the church. It was this structure that became the Maple Plain SDA Church School the fall of 1944 with an enrollment of 16 students.
In later years, the school activities were relocated to a new addition built on the back of the church. The little log "school house" was turned back to be parallel to the road and returned to it's house status where it remains to this day.
See the former church school today
The church school continued to operate in the addition to the church until the mid-1980s. Most years it had just one teacher but for a while during the 1960s and 1970s it was increased to two teachers with one taking the lower grades and the other teaching the upper grades.

The education acquired in the Maple Plain Church School laid solid foundations for many who are leaders in their churches and communities today! Friendships also were formed that have lasted for decades and will no doubt last into eternity!

For more information and pictures of the church school, check out the Maple Plain SDA Church School on the Schools page of this website.
Maple Plain SDA Community Services
Through the years, the Maple Plain church ladies pursued a variety of ministries through the "Dorcas" organization (later called Community Services). Myrna (Andersen) Parker recalls that her mother, Hazel (Stringer) Andersen was Dorcas leader "forever". The Dorcas group didn't have a place to house a clothing depot but they were very active in other respects. They had a great many bake sales to earn funds for various worthy projects. Cooking schools were also held such as this one noted in the Review and Herald on July 20, 1972:
A cooking school was conducted in the Maple Plain, Minnesota church recreation room on Tuesday and Thursday nights, May 9 to 23. It was under the direction of Margo Swaningson and Elaine Mueller, assisted by Carol Shain and Kristine Tasche. Al Johnson was coordinator. Food was attractively prepared, films were shown, and door prizes given. Guest speakers were K. L. Dedecker, M.D., and Dennis Calkins, D.D.S. The average attendance was 20, and 18 received certificates for completing the course.
Other Maple Plain SDA Church Ministries
Through the years, a variety of other church ministries have offered services to members and/or the community. At the Minnesota Pathfinder Fair held in Minneapolis, May 11, 1958, E. D. Clifford, Conference MV and Educational Secretary, reported Maple Plain as being one of the "top" participants. (Review and Herald, July 17, 1958) The June 13, 1968 Review and Herald noted:
An Adventist Men's Club has been organized in the Twin Cities area of the Minnesota Conference. Eugene Ewer, of the Northbrook church, is president, and Tom Rea, of the Maple Plain church, secretary. The club was organized to be of service in time of need.
For over a century now, Maple Plain has offered a variety of services such as these to the surrounding community.

In addition to the impact the Maple Plain SDA Church has had on the immediate community, it has also had a much greater sphere of influence. Many families have passed through the Maple Plain church through the years with several individuals going on to minister in a variety of notable capacities – teachers, ministers, healthcare workers, etc. – spreading the love of Jesus wherever they may go.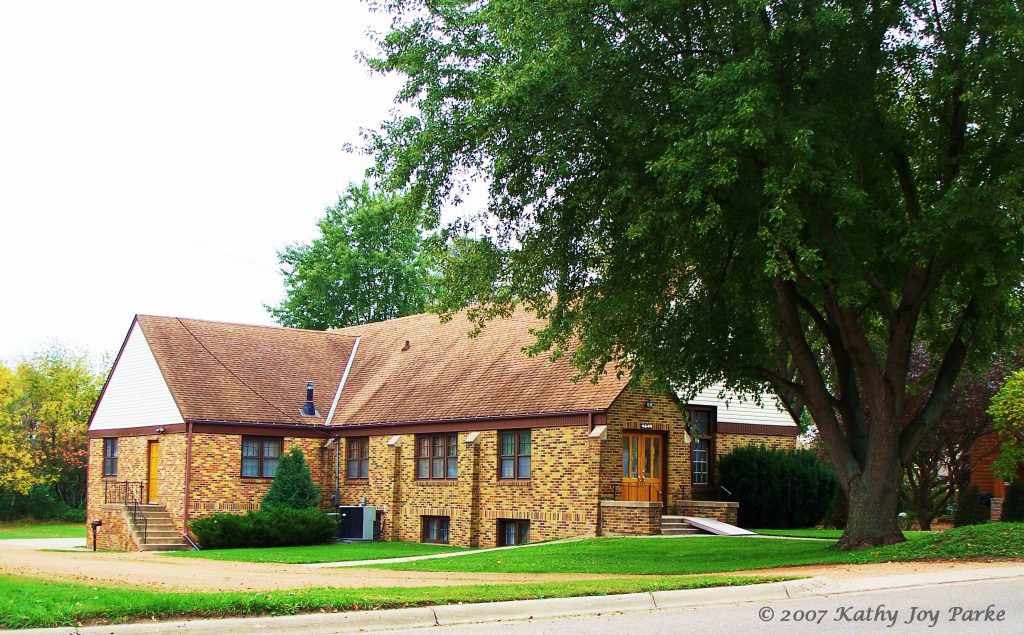 Maple Plain SDA Church – A Dream Come True
Reflecting back, D. P. Curtis, who had started to minister against great opposition to the Maple Plain area in 1879, must have been sorely disappointed to see the church group disintegrate within a couple of years. Passing away on August 15, 1898, Elder Curtis very possibly might have felt that the work in Maple Plain had been for naught – and yet, in reviewing old church magazines, one can find many individuals who cited that they had learned of Jesus' love from D. P. Curtis – certainly his work continued long past his stay on this earth.

Little did Curtis know of the great work that would take place in the little town of Maple Plain – the church, the church school, Maplewood Academy – all beyond his wildest dreams. Elder Curtis would be both surprised and pleased to see the strong missionary-minded presence that exists in Maple Plain today – a presence that has grown through the years – over 70 years for the current church and over nearly a century and a half since the first group was organized.

What a joyous day it will be when we all get to heaven and Elder Curtis can see the fruit of the labor in Maple Plain!

"When we all get to heaven, what a day of rejoicing that will be!
When we all see Jesus, we'll sing and shout the victory!"