Born: December 09, 1908 in Redwood Co., MN
Death: July 27, 1994 in McLeod Co., MN
Buried: Morgan City Cemetery, Morgan, Redwood Co., MN
Findagrave: 193165248
Spouse: Lewis Oliver Anderson, Sr.
Parents: Jens Peter Benson and Amelia Caroline Larsen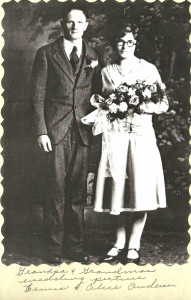 Obituary:

Alice M. Anderson, age 85 of Hutchinson, passed away on Wednesday, July 27, 1994 at her home. Funeral services were held on Saturday, July 30, 1994 at 1:30 PM from the Seventh Day Adventist Church in Hutchinson with interment in the Morgan City Cemetery in Morgan, Minnesota. Pastor Robert Brauer officiated. Organist: Angie Hardt. Special music by the Anderson Family Singers. Casket Bearers (Grandchildren) Curtis Anderson, Clinton Anderson, Jonathan Anderson, Eric Anderson, Brad Carrick, Greg Carrick, Doug Anderson, Darrin Anderson and Steve Anderson. The remainder of the grandchildren served as honorary casket bearers.
Alice M. (Benson) Anderson was born on December 9, 1908 at Doland, South Dakota. She was the daughter of Jens and Amelia (Larson) Benson. Alice grew up and received her education at Morgan, Minnesota. She was baptized as a youth in the Seventh Day Adventist Church in Morgan. On February 8, 1930, Alice was united in marriage to Lewis O. Anderson at Redwood Falls, Minnesota. This marriage was blessed with seven children. The Andersons farmed at Hurley, South Dakota; Ruthven, Iowa; Morgan, Minnesota; and Wanda, Minnesota. Lewis passed away in 1976 and Alice moved to Hutchinson shortly thereafter. Alice was a life long member of the Seventh Day Adventist Church and she was formerly active with the Dorcas Society. She loved her church and she enjoyed spending time with her family. Her hobbies included sewing, knitting, crocheting, and gardening. A few months ago, cancer was diagnosed and Alice became a participant in the Hutchinson Hospice Program. She passed away at her home on Wednesday, July 27, 1994 at the age of 85 years, 7 months, and 18 days.
Alice is survived by her children and their spouses:
Gloria and Gilbert Row of Rock Rapids, IA,
Norman and Janet Anderson of Spokane, WA,
Wesley and Harriet Anderson of Hutchinson, MN,
Lewis and Saba Anderson of Dodge Center, MN,
Ruby and Wayne Baer of Ronan, MT,
Rosemary and Bill Anderson of Las Cruces, NM,
Charles and Berniece Anderson of Hutchinson, MN;
29 grandchildren and 19 great grandchildren;
Brothers and sisters and their spouses:
James and Virginia Benson of Tacoma, WA,
Frances Kerkhoff of Grants Pass, OR,
Verlin and Helen Benson of Cosmos, MN,
Viola Mosier of Redwood Falls, MN;
Nieces and nephews.
Alice was preceded in death by her parents; husband, Lewis;
grandson, Kurt Wooster; brother, Oscar Benson.
Interment will take place at 4:30 today at the Morgan City Cemetery in Morgan, Minnesota.

Source: Harriet Andersen-Anderson Family Notes