Back to Biographies
Back to MWA Principals
1961-1973 Maplewood Academy Principal
Born: January 09, 1924 in Middle River, Marshall Co., MN
Death: September 16, 2000 in Hendersonville, Sumner Co., TN
Buried: Hendersonville Memory Gardens, Hendersonville, Sumner Co., TN
Findagrave: 185418891
Spouse: Lynette Irene Anderson
Parents: Elmer Theo Anderson and Esther Marie Blom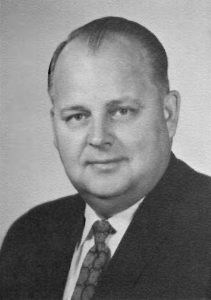 Obituary:
Lyle Anderson, former superintendent of schools for the Kentucky-Tennessee Conference, passed away on September 16, 2000. He died of heart failure at the age of 76 after a long illness.

He served in the Kentucky-Tennessee Conference from 1978 until his retirement in 1989. During his years in the Conference, he also served on the Board of Education for the State of Tennessee and accomplished the Adventist School System being recognized as its own accrediting body in the Southern Union for Adventist schools.

He began his teaching ministry as a music teacher at Sheyenne River Academy in North Dakota in 1956. He also taught at Glendale Union Academy in California and served as an academy principal at Maplewood Academy in Minnesota and Georgia-Cumberland Academy in Georgia. He was ordained in 1965.

After his retirement, he and his wife, Lynette, continued to live in Hendersonville, Tenn., and was a member of the Hendersonville church. A memorial service was held at the Hendersonville church September 20 with Conn Arnold officiating.

He is survived by his wife of 57 years, Lynette; one son, Ted, of Houlton, Wis.; four daughters: Kaylene Truitt of Rosamond, Calif., Joni Zier of Collegedale, Term., Lynn Young of Charlotte, N.C., Kristi Burnham of Cottontown, Tenn.; one brother, Allan, of Plymouth, Minn.; and nine grandchildren.

The Kentucky-Tennessee Conference is indebted to them for their dedicated service and commitment to finishing the work.

Southern Tidings, December 2000, 22.
2011 Greeting from Mrs. Lyle (Lynette) Anderson:

Elder Anderson's thirteen years at MWA were a wonderful time in his life. Many of the memories of his school days when he went to school there came back to him while working there. He made many new friends while he was there.
If he were here today, he would like to tell you all a big hello. And he would say how proud he was of each of you. He always ENJOYED hearing from each of you individually.
I am alive and well, living in Hendersonville, NC. For those of you who know me, I still like to shop, eat out, play card games with my friends, and enjoy my 5 children, Ted, Kaylene, Joni, Lynn and Kristi with their spouses. We had 9 grandchildren and 3 of them are now married.
See you again someday (in Heaven).
Blessings,
Mrs. Lynette Anderson, wife of Elder Lyle C. Anderson