Born:       April 17, 1890 in Sterling Center, Blue Earth Co., MN
Death:     April 14, 1965 in Northome, Koochiching Co., MN
Buried:   Forest Hill Cemetery, Northome, Koochiching Co., MN
Findagrave:   93994807
Spouse:  Bida Belle Osborn
Parents:  William Morris Franklin and Sarah Adeline (Addie) Schram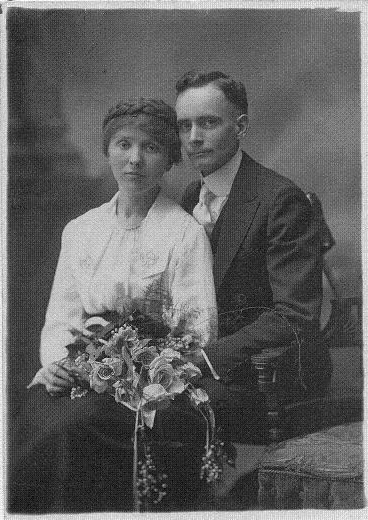 Obituary:
Franklin – Horace William Franklin was born at Sterling Center, in Blue Earth County, Minnesota, April 17, 1890, and died suddenly and accidently at the Seventh-day Adventist Church in Northome, Minnesota, while caring for his work as custodian of the church. On May 26, 1920, he was married to Bida Bell Osborn at Dodge Center, Minnesota, and to this union were born six children. Brother Franklin was born of Seventh-day Adventist parents and as a young man was baptized into the church himself. He was a member of the Good Thunder, Mankato, and Northome, Minnesota, churches where he served as elder in all three churches and also was a deacon, missionary leader and Sabbath School Superintendent at different times. Three of Brother Franklin's sisters married Seventh-day Adventist ministers: Myrtle's husband, Otto Bernstein, became well known as an outstanding evangelist for the denomination and also president of several conferences; Martha's husband, A. V. Olson, became vice-president of the General Conference of Seventh-day Adventists. Brother Franklin is survived bv his wife, Bida, of Northome, Minnesota; four sons: Dr. Gordon Franklin of Northome; Donald Franklin of Independence, Missouri; Clark Franklin of Northome; Norman Franklin of Frederick, Maryland; one daughter, Rilla (Mrs. John Walenga) from near Chicago, Illinois: one brother, George Franklin of Lodi, California; three sisters: Mrs. A. V. Oison of Takoma Park; Mrs. Peter Gunderson of Loma Linda; Mrs. Grace Olson of Hudson, Mass. Also ten grandchildren and many nieces and nephews survive. Brother Franklin was known by those who knew him as a lovable and humble Christian; a sincere man dedicated to his church and the work of his church. He took upon himself the care of the church premises in addition to the various offices he held in the church here. It was a labor of love and he died in line of duty while caring for this work. The blessed hope was a very real and personal thing to Brother Franklin and today he awaits the call of the Life-Giver.
Received 5-12-65; P. S. Young
Northern Union Outlook, August 20, 1965, 10.
Note: Horace was a 1921 graduate of Maplewood Academy