Back to Biographies
Back to MWA Alumnus of the Year

2015 MWA Alumnus of the Year – Kathy Joy Parke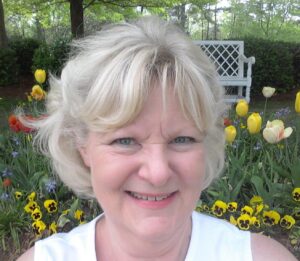 An Interview of Kathy Joy ((Parker) Parke as Alumnus of the Year
As conducted by Laura Cummings for the Maplewood Alumni Newsletter
Laura: Kathy, would you tell us a little bit about yourself for the readers who have not met you?
Kathy: I'd be delighted to! I'm a 3rd generation MWA student, but the 1st generation to march for graduation (my grandmother graduated but was too ill to march). My maternal grandfather, Helmer Andersen, attended MWA at Maple Plain from 1925 to 1928. My maternal grandmother, Hazel Stringer-Andersen, attended MWA at both Maple Plain and Hutchinson, graduating in 1930. (She also attended Hutchinson Theological Seminary.) My dad, Vernon Parker, attended MWA 1947 to 1950 and my mom, Myrna Andersen-Parker attended 1948 to 1952. I was blessed to graduate with the awesome class of 1973!
In 1974 I married Roy Parke (a Union College grad who had become a family practice physician) and I obtained my LPN nursing degree in 1976. We added two children to our family and lived several years in Northome, MN where I served as mayor for a time. In 1989, we moved to Buchanan, MI (about 8 miles from Andrews University) where we started a Family Practice office. I have served as the Administrator of the office as it has grown over the last 26 years to now include 3 providers and about 15 support staff. Of course, that's my "day job"! In my free time I enjoy music, history and hunting for covered bridges! But even though I live in Michigan now, I will still always be a Minnesota gal at heart!
Laura: What does it mean to you to be this year's Alumnus of the Year?
Kathy: Well, it certainly was a totally unexpected honor! First of all, it's an honor just to be an alumnus of this school because this has been and continues to be one of the most successful SDA academies ever and we can be very proud of that! In a time when many academies are closing, we are still here, moving forward in faith, so you know we're doing something right! But, in addition to that, when I review the list of previous Alumni of the Year, I see a very dedicated group of people who have been such a blessing to our school through the years and I hope I can live up to that legacy. But I'm really just one of many alumni who deserve honor – our alumni are really at the heart of this school – providing important financial and other support throughout the years to continue educating our young people for eternity.
Laura: What are some of your favorite MWA memories?
Kathy: Hmmm … where to start! My first memory is of Mr. Hinde driving the 5 hours up to our home in northern Minnesota to personally encourage me to attend Maplewood and help us work out the finances for it – that always meant a lot to me! There are memories of many other faculty who cared and went the extra mile to help me learn, not just from books, but also from life. Of course, there are the fun and silly memories – like giggling with friends, sneaking into each other's rooms during study hall and sharing in a few fairly harmless pranks! There are the tasty memories – like eating Mrs. Haugen's caramel rolls – yum, yum! But, most precious, are the spiritual memories – vespers, Friday night dorm sing-a-longs, joining in on Sabbath afternoon singing bands, and … my most precious memory of all is that of our Class of 1973 gathered at the flag pole on graduation weekend with joined hands, singing "Side By Side We Stand" – it was a very real foretaste of heaven!
Laura: What has Maplewood meant to you in the years since your MWA graduation?
Kathy: I don't know how one could get a better start in life! I often think of Mr. Fandrich when I do an algebra problem (yes, students, you do actually use this stuff later in life!), every so often I find Mr. Birch's Spanish lessons to be helpful, I constantly use the English comp lessons that I learned from Mrs. Lang and Mr. Barcenas, Mrs. Brown's piano lessons continue to bless me, and I sure am glad that that Mr. Swanson taught me to appreciate history because it is soooo interesting! But, more than that, being at Maplewood taught me about responsibility, independence, and the importance of relationships – my relationship with God and my relationships with friends and family. Maplewood has truly been an ongoing blessing in life!
Laura: Tell us about your MN SDA History website. What inspired you to do this and how can readers benefit from it?
Kathy: My parents visited us in the spring of 2008 and talk turned to their childhood memories of church events – my dad had grown up in Morgan and my mom in Maple Plain. I found their stories to be so fascinating – stories like that of the hard working members in Maple Plain during World War II who took apart a church and then rebuilt it in their town. As I listened, a passion grew within me to save the stories for posterity. A few months later, when visiting my husband's cousin, Alice (Larson) Pettis, she also shared stories. I told Alice about my dream to preserve MN SDA history. In 2004, we'd worked together on a centennial tribute and tour of the old Maplewood Academy site in Maple Plain, so it was only natural that when I suggested a website, Alice, always a cheerleader, encouraged me to go for it! As I've researched, Alice and my parents, along with others like my dad's cousin Evelyn (Sorensen) Lauritzen, our dear friends Dr. Gordon and Marjorie (Kaldahl) Franklin, the late Dr. Elmer Martinson and countless others have been invaluable resources – I've learned so much from them all! Many of the stories are very inspiring, some stories are downright funny (the MWA girls sneaking into the barn and tying bows on the cow's tails!), and some stories are sad – reminding us to look forward to heaven. I've enjoyed the photos that have been shared of camp meetings, families, and church groups … but is is especially fun to see the old Maplewood snapshots from Maple Plain and on through the years at Hutch! It's been fun to work on scanning in MWA yearbooks and reflect on the journey of this school. In having a website, I can enjoy sharing these stories, photos and memories with others and hopefully bring reflections, inspirations, and lessons for their lives – I believe that lessons of the past can truly bring us hope for the future! I hope alumni will check out the website at www.mnsdahistory.org
Laura: What advice would you give to our current Maplewood students?
Kathy: Be aware of the preciousness of the relationships you are making at Maplewood – that is one of the greatest blessings you will take with you from this school – these are people who will be your friends for life! Also, be sure to spend some time studying – you really will use a lot of this stuff later in life!!! Most of all, though, stay connected to Jesus – you can count on him to see you through the storms of life!
Laura: Any closing thoughts for us, Kathy?
Kathy: My greatest prayer is that every one who has ever been or currently is a student in this school will make and keep a commitment to stay connected with God. As much as we treasure the friendships we have made at Maplewood, there is only one friend who is always true and that is our precious Jesus. We live in a tough old world where we are constantly assailed by the devil trying to discourage us, but we must keep the faith and know that God is always there at our side, leading us through every trial. I just pray that we can all meet in heaven for a grand MWA Alumni Reunion by the tree of life – can you imagine how much fun that will be?!!!
Meet me in heaven, We'll join hands together …
Meet me by the Savior's side.
I'll meet you in heaven, We'll sing songs together …
Brothers and sisters, I'll be there … Pray that we all will be there!