Back to Biographies
Back to MWA Alumnus of the Year

1992 MWA Alumnus of the Year – Alice Janette (Larson) Pettis
Born: January 9, 1933 in Sauk Centre, Stearns Co., MN
Death: November 26, 2017 in Cologne, Carver Co., MN
Burial: Gilchrist Seventh-day Adventist Cemetery, Glenwood, Pope Co., MN
Findagrave: 185908561
Spouse: Gerald Loren Pettis
Parents: Elmer Oliver Larson and Esther May Guishard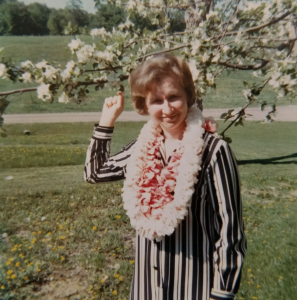 Obituary:
Pettis, Alice J., age 84, of Shorewood, MN, passed away November 26, 2017. Preceded in death by parents, Elmer Larson, Esther Larson and Gladys Larson; brother, Donald and nephew Loren. Survived by husband, Jerry of 66 years; sons, Daryl (Vonda) and Kevin; daughters, Janene Rick ( Larry ) and Tamara Weidemann (Bob); grandchildren, Kendra Pettis, Ryan Pettis (Stephanie), Kara Pettis, Kirk Pettis, Kyle Pettis, Dana Tikker (Jeff), Stephanie Lind (Jeff), Michael Weidemann, Wendy Rick, Gordon Rick (Cheryl), Kendra Brolsma and Carson Brolsma; great-grandchildren, Elyssa Pettis, Lilly and Will Pettis, Ellie and Max Tikker and Jaxon Lind; three sisters, Arlene Rushold (Carroll), Mary Lou Burgeson, and Linda Carr (Robert) as well as many nieces, nephews and friends. Memorial service will be held Friday, December 8, 2017 at 2 p.m at Good Shepherd Presbyterian Church, 15321 Wayzata Blvd., Wayzata, MN with visitation one hour prior to the service at church. Memorials to Maplewood Academy, Hutchinson, MN. Private interment at a later date. David Lee Funeral Home Wayzata 952-473-5577 www.davidleefuneralhome.com
Minneapolis Star Tribune, December 3, 2017
Life Sketch:
On a frigid Minnesota winter day, January 9, 1933, Alice Janette Larson made her debut at the home of her grandparents, Ben and Mary Ives, in Sauk Centre, Minnesota.  As a nurse in the early 20th century, Mary Ives was well-known for delivering babies and providing care to the mothers and newborns after birth.  It was only natural that when her daughter, Esther, was nearing the time for childbirth, she would turn to her mother for assistance, traveling to Sauk Centre to be in Mary's care.
After a sufficient time of nurturing at Grandma Ives home, it was with great joy that Alice's parents, Elmer Oliver Larson and Esther May Guishard-Larson, brought their first daughter back to their farm in Gilchrist Township, Pope County, Minnesota. Here, Alice joined her older brother, Donald Leroy. Later on, two more sisters, Arlene Marie and Mary Lou would join the happy little Larson family.
Elmer, a son of Norwegian immigrants, and Esther, a daughter of German heritage, worked hard on their farm and provided a warm and loving home for their children. On Sabbaths, they would walk up the hill from their farm to the little Gilchrist Seventh-day Adventist Church and gather together in the house of worship that had been built by Elmer's grandfather, Ole Larson. It was here that the children formed some of their earliest and longest-lasting friendships as there were many families that attended the little country church. When it came time for the Larson children to enter school, they attended the little country school house in Gilchrist Township. Alice had many fond memories of her childhood on the family farm.
But dark days were ahead for the tightly-knit Larson family. In 1941, Esther was pregnant with their fifth child and restricted to bed-rest for a blood clot. When she finally was allowed out of bed, the clot moved to her lungs and on April 09, 1941, Esther passed away, leaving her grief-stricken husband and four motherless children behind – Alice was just 8 years old at the time. It was with great heartache and pain that the family laid Esther to rest in the little Gilchrist Seventh-day Adventist Cemetery up the hill from their farm. Life would never be the same. As the oldest daughter, Alice often felt a weight of responsibility for the welfare of her family now that they no longer had a mother in the home. They found support, however, in their little Gilchrist church group with several young ladies like the Kaldahl girls lending a hand. One young lady, in particular was a great help – Gladys Viola Sather – she was a sweet and loving young woman who had also been born and raised in the Gilchrist area. The Larson children came to love her dearly and on April 7, 1942, Gladys and Elmer were wed and, once again, there was a mother in the family. In a couple of years, there was another sister, too, when Linda Mae arrived to join the household.
Being reared in a Christian home, Alice learned to love the Lord and at the tender age of 9 years, she determined to devote her life to walking with Jesus. On June 23, 1942, she, with her friend, Joyce Kaldahl (Graham), and several others entered the beautiful waters of Scandinavian Lake a couple of miles from Alice's home where they were baptized into the Seventh-day Adventist Church by Pastor C. V. Anderson. Alice always loved the Seventh-day Adventist church and she was active throughout her life in demonstrating God's love to those around her through her warm and caring ways.
As Alice entered into her teenage years, she longed to be able to attend the Seventh-day Adventist high school, Maplewood Academy, at Hutchinson, Minnesota. She knew it would be a financial challenge for the family but eventually her dream did come true and, in the fall of 1949, she enrolled at Maplewood for her senior year. She absolutely loved Maplewood and she acquired a great many friends there – some of whom may be attending her memorial service today. Alice had met a charming young man, Jerry, in Minneapolis where their grandmother's homes were just a block apart. Jerry also attended Maplewood and it was there that their friendship continued and blossomed into courtship. Together, Alice and Jerry graduated from academic life at Maplewood Academy in the spring of 1950 and soon they were planning for their married life together! On March 18, 1951, Alice married the love of her life, Gerald Loren Pettis – it was a small wedding as the weather had turned into blizzard conditions and few (including the pastor who had planned to marry them) were able to attend the small and simple ceremony. But simple though it be, it was the commencement of a loving marriage that lasted 66 years. Within a few years, Alice and Jerry were enlarging their family with the arrivals of Daryl Keith, Janene Alice, Kevin Gerald and Tamara Sue.
Throughout the early years of their marriage, Alice provided a nurturing home for their children. As the children entered their school years, Alice could often be found helping out with one project or another at the schools. The family regularly attended church beginning with the Maple Plain Seventh-day Adventist Church where the children also attended the church school. Later they attended the Minnetonka Seventh-day Adventist Church and the children were enrolled in Minnetonka Junior Academy. All of the children completed their high school years at Alice's beloved Maplewood Academy. She often served on various school boards, ensuring that a quality Christian education was available to the students.
About 1973, Alice started working with the AFLAC insurance agency. She had a knack for working with people and, in addition to interacting well with the customers, she also used her leadership skills to help develop the company. Her leadership abilities led to new roles for her as the District Manager and, eventually, as the Regional Manager.
Throughout her life, Alice was always devoted to her church and lent her skills to various projects. She taught in the children's Sabbath Schools, she played piano at church as needed and sang in musical groups, she helped with cooking schools, she was invested as a Master Guide, and she was often found working on social events. When Kathy Parke (her cousin's wife) suggested creating a website for Minnesota Seventh-day Adventist history, Alice was the biggest supporter and contributor. She had boxes and boxes of historical gems and she knew all the right people to connect up with to obtain the historical information that she didn't have! Often times she would be calling Kathy on the phone stating, "Say, cousin … guess what I just found!"
In particular, Alice was a life-long supporter of Maplewood Academy – often working to promote the school in one way or another. She worked with Elwood Johnson in creating the first Maplewood Academy Directory, gathering names and addresses and current information on alumni of the school. During that project, she would often excitedly call Elwood to report the information she had gleaned saying, "I just hit the jackpot!" She also often assisted with organizing and planning Maplewood Alumni Weekends, helped with keeping school historical information preserved and organized and she served several times on the Alumni Board, serving for a time as the President. In 1992, she was named the Alumni of the Year by Maplewood Academy, a well-deserved award! When the school had it's centennial celebration in 2004, she was at the heart of the planning once again, working together with Kathy Parke to provide a tour of the original school grounds in Maple Plain.
Alice had a passion for life, she chose to enjoy life and have a positive attitude regardless of the challenges that came her way. She loved music – both listening and participating. She and Jerry loved to travel and Alice fondly recalled memories from their cruise to Alaska and their travels to Europe when the Seventh-day Adventist General Conference met there. She loved to garden and put up the produce to enjoy throughout the long Minnesota winter months. Alice loved to work on projects – she had an enthusiasm that would get most any project up and running. But more than anything, Alice loved people!!! You could see her face light up every time she met an old – or new – friend! She knew almost everyone in the Minnesota Seventh-day Adventist circle and was a gracious hostess providing many Sabbath dinners and Saturday evening game nights.
It's hard to imagine life without this passionate lady to share it with us. Even as her health was declining, she didn't let that stop her from living life. She was still at Maplewood Alumni Weekend this past fall. She still frequently talked to friends on the phone. As much as possible, she still attended Westview Seventh-day Adventist Church where she and Jerry had become charter members in 2001. She rarely talked of her illness and certainly wasn't given to complaining about her lot in life – she was always too busy living life to the fullest. Even the last week of her life, she enjoyed the visits of all of her children and many of her grandchildren and great-grandchildren along with other family members.
On her last full day of living, a sunshiny Sabbath day spent where she received tender care in the home of friends Jill, Delores, and Jenny, as family visitors were closing their visit, Alice insisted on leaving her bedside to see them to the door – a good hostess always sees her guests to the door. As the rosy sun set in the west that day it seemed a symbol of a her life – Alice chose to live in the sunshine … but every day of sunshine has a sunset and she was entering hers. On Sunday morning, November 26, 2017, after phone calls from her children, and with her devoted Jerry holding her hand, Alice slipped into her last rest – waiting to be awakened by her Lord and Savior on a sunshiny day when He returns for her. There are many whom she leaves behind, longing for the day when they can once again be reunited with her and live in the sunshine of God's love forever.
Alice will be laid to rest in the little Gilchrist Seventh-day Adventist Cemetery on the hill overlooking the farm where she grew up. Here she will join her parents in waiting for the sunshine of God's arrival when he comes to take her home. It was Alice's desire that each one of us will join her on that day to travel to a place where we can enjoy sweet fellowship forever more – where our visits will never end and she will never need to see us to the door.
By Kathy Joy Parker-Parke as read at Alice's memorial service